Missouri S&T Miners in Space develop NASA anchor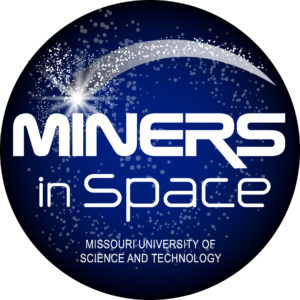 If astronauts are ever going to travel to and land on Mars, the first step is capturing a piece of an asteroid, putting it into orbit around the moon and having space walkers explore it. And Missouri University of Science and Technology students are designing a device that allows astronauts to safely move around on just such a rock.
Missouri S&T's Miners in Space team is participating in NASA's Micro-g NExT design challenge, and team members have developed an anchoring device that attaches to the surface that astronauts can clip onto. As part of NASA's asteroid redirect project (ARM), the agency wants new technologies to use on a human mission to the Martian system in the 2030s.
But first, walking around on a piece of an asteroid has its own set of problems.
"Asteroids have just a little bit of gravity," says team president Elizabeth Robinson, a junior in ceramic engineering from Springfield, Illinois.
NASA had five projects from which teams could choose, and the Miners in Space team picked "Anchoring Device in Regolith," a regolith being the layer of loose material, such as sand or rocks, covering bedrock. The team's anchor is a hollow tube with an auger inside that is used to screw the device into the asteroid surface at least 6 inches. "Wings" on the tube, which needs to be as neutrally buoyant as possible, make sure it can't easily be dislodged from the regolith.
"You know how a tick digs in and grasps you with its legs?" Robinson says. "That's kind of how this works."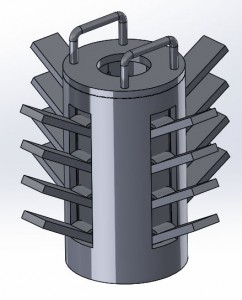 In addition, the anchoring device must have a handle that astronauts can clip a carabiner onto, and it has to hold 10 pounds of force pulling up.
Team advisor Dr. Hank Pernicka, associate professor of mechanical and aerospace engineering at Missouri S&T, runs oversight on the project, but participants had to make their own choices. "I give them quite a bit of latitude," he says.
One of 25 college teams selected for the project, Missouri S&T's Miners in Space started the project in September and their device is slated for testing in late May at NASA's 40-foot-deep Neutral Buoyancy Laboratory in Houston. Team members can't get in the pool, but they'll be in contact with the astronaut testers via intercom.
The team has built a prototype out of PVC tube, but the device they take to Houston will be made of ultra-high molecular weight plastic that will be milled using a water jet, Robinson says. And if their anchor works as intended, it could next be deployed in outer space.
Micro-g NExT replaces NASA's Reduced Gravity Education Flight Program (RGEFP) that was discontinued in 2014. Previous Miners in Space teams participated in the RGEFP and rode aboard NASA's "vomit comet" plane that flew parabolas to produce a zero-g environment for 30 seconds at a time.
The design aspect isn't all the team must do as part of the NASA project. Team members have to be involved in outreach to children from kindergarten to high school, giving presentations and sponsoring activities designed to get kids interested in the STEM (science, technology, engineering and math) fields. Team members have traveled to four states surrounding Missouri, and besides schools they've worked with Boy Scouts and Girl Scouts troops and Boys & Girls Clubs.
Other team members are:
Camille Baker of Knoxville, Tennessee, a sophomore in mechanical engineering
Alex Bayliff of Rolla, Missouri, a graduate student in computer science
Jason Chau of Springfield, Missouri, a senior in aerospace engineering
Morgan Cornish of West Plains, Missouri, a junior in ceramic engineering
Jill Davis of Brookline, Missouri, a senior in aerospace engineering
Nathan Durfee of St. Louis, a junior in petroleum engineering
James Linck of Florissant, Missouri, a senior in aerospace engineering
Zach Martinez of Waynesville, Missouri, a junior in engineering management
Katlyn Phillips of House Springs, Missouri, a freshman engineering student
Shannah Withrow of Odessa, Missouri, a senior in aerospace engineering
###