Elvis' first venture to Las Vegas flopped, writes historian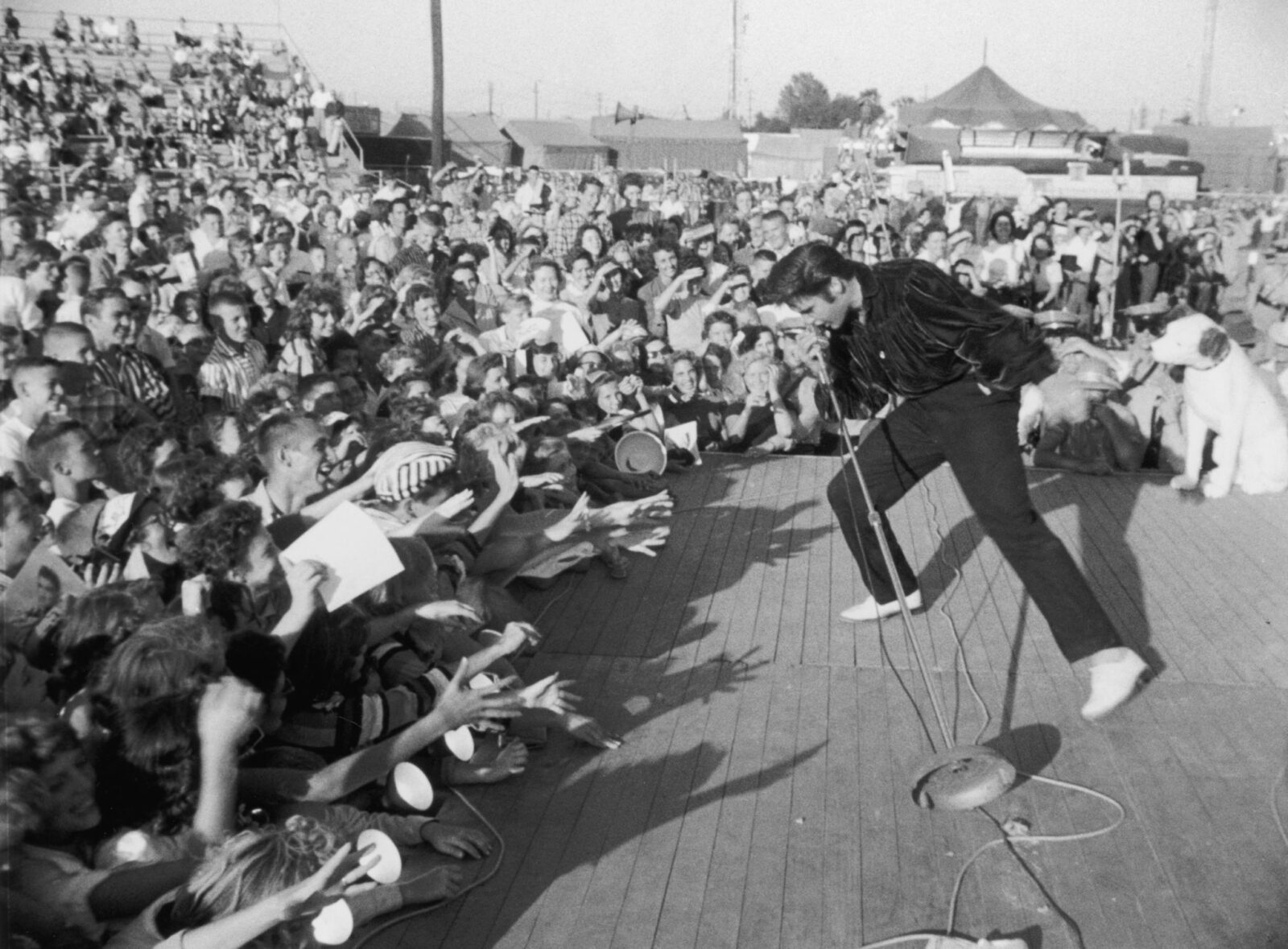 Beginning with "one electrifying night" in 1969 and continuing through the mid-1970s, Elvis Presley reigned as Las Vegas' top nightclub act. But his first attempt to win over fans in that city 60 years ago was "a painful setback" for the young performer, writes a Missouri S&T historian.
Presley was a pop sensation on the rise by the time he made his national television debut on the Dorsey Brothers' "Stage Show" 60 years ago on Jan. 28, 1956. That event and subsequent TV appearances on Milton Berle's program, "The Steve Allen Show" and the "Ed Sullivan Show" helped solidify the singer's reputation as the "king of rock'n'roll." Those successes also led to a poorly timed decision to put Presley in front of a Las Vegas night club audience that was not accustomed to his gyrations and raucous style.
The singer's first venture to Las Vegas – the city that later became his favorite get-away destination – was dismissed by critics and harshly criticized by the audience, writes Dr. Larry Gragg, Curators' Teaching Professor of history and political science at Missouri S&T, and the author of two books and numerous articles about Las Vegas in popular culture.
Encouraged by Presley's success in concerts and TV appearances, his manager, Colonel Tom Parker, "decided that the next critical step in building a national presence for Elvis was for him to appear in a nightclub," Gragg writes in "'They Weren't My Kind of Audience': Elvis Presley's First Appearance in Las Vegas in 1956," published in the Winter 2015 issue of the journal of popular history Nevada in the West. "The famed 'Strip' in Las Vegas was the logical place," Gragg writes, "as it had become the pre-eminent showplace for live entertainment."
Parker arranged a two-week engagement for Presley as an "added attraction" to headliner Freddy Martin and his orchestra and comedian Shecky Greene at the New Frontier Hotel in Las Vegas beginning April 23, 1956. "Those two weeks turned out to be a painful setback for the young star," Gragg writes. "It quickly became apparent that Elvis was ill-prepared for a nightclub crowd."
The crowd wasn't prepared for Presley either.
"The audience reaction to his act … made matters worse for Elvis," writes Gragg. "This would have been their first encounter with the energetic, gyrating rock'n'roll singer."
Let's 'go to the tables and gamble'
On opening night, the nervous Presley "began with his hit 'Heartbreak Hotel,' which he mispronounced as 'Heartburn Hotel,'" Gragg recounts. Almost immediately, one man near the front leaped to his feet, shouting expletives about "all this yelling and screaming" and resolving to "go to the tables and gamble."
The rest of the audience "sat in stony silence for several minutes not knowing how to react," Gragg writes, but eventually "a few people were tapping their toes and snapping their fingers as others offered polite applause, and as they left the Venus Room most were talking about Elvis."
Reviews of Presley's performance that night were mixed. A writer for the Las Vegas Sun said the singer "failed 'to hit the promised mark,'" and Newsweek said he was "like a jug of corn liquor at a champagne party."
At the end of that debut, Gragg writes, a "frustrated and angry" Presley was quoted as saying, "I don't want no more night clubs. An audience like this don't show their appreciation. … They're eating when I come on."
But Presley would return to Las Vegas and the night clubs some 13 years later. In July 1969, Presley – backed by two quartets and a 35-piece orchestra – "returned in triumph" to Las Vegas, performing at the new International Hotel "before a sold-out crowd that included a glittering array of Hollywood stars and Las Vegas luminaries," Gragg writes.
Already associated with the city thanks to the success of his 1964 movie "Viva Las Vegas," co-starring Ann-Margret, Presley's dazzling performance on "that electrifying night in July 1969" firmly established him as "a true Las Vegas icon," Gragg notes.
Gragg is the author of two books about Las Vegas: Bright Light City: Las Vegas in Popular Culture (2013) and Benjamin "Bugsy" Siegel: The Gangster, the Flamingo, and the Making of Modern Las Vegas (2015).