Missouri S&T solar house travels to California for competition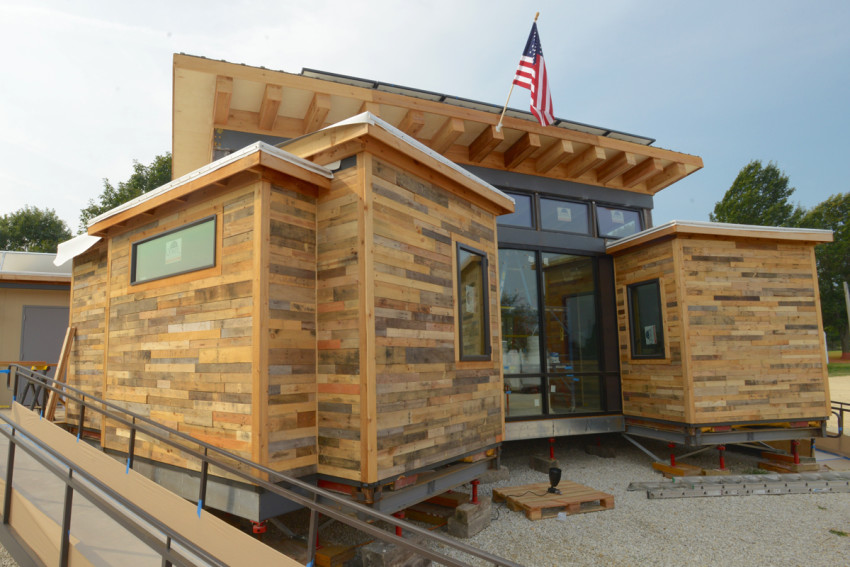 A team of students at Missouri University of Science and Technology spent two years designing and building a solar-powered house filled with smart-living technology. Once it was complete, the students cut it into pieces and shipped it to California on four semitrailers to compete in an international building competition.
The Missouri S&T Solar House Design Team will show off its latest creation, dubbed the Nest Home, at the 2015 U.S. Department of Energy Solar Decathlon in Irvine, California. Judging for the event takes place Oct. 8-18, with the house on display to the public during that time. After the competition, teams will disassemble the houses and transport them back to their respective schools.
This is the sixth time the Missouri S&T team has competed in the Solar Decathlon – more than any other university.
Fourteen teams from around the world, including schools from Germany, Italy, Panama and Singapore partnering with U.S. universities, will compete at the event. This year, Missouri S&T's team has approximately 60 members, though only 30 of them will travel to the competition. The 30 students will rotate their travel to avoid missing too many classes.
Named the Nest Home after the practice of birds that build nests using natural materials, Missouri S&T's 2015 home makes use of reclaimed materials. The living area was formed using three repurposed shipping containers and its siding is made from shipping pallet lumber. It is designed for a growing family and features two bedrooms, a home automation system and a charging station for an electric car, all powered by 24 solar panels.
The house will be judged by a panel of experts in 10 different categories during the competition. The categories range from simple comforts like hot water and working appliances to architecture and marketability. Each category is worth 100 points, with a total of 1,000 points available. The team with the highest cumulative score will win the competition.
This year's team leader is Mary Puleo, a senior in environmental engineering from St. Louis. The team's advisor is Heath Pickerill, director of the Missouri Local Technical Assistance Program in academic affairs at S&T. Dr. Chris Ramsay, director of the Student Design and Experiential Learning Center at S&T, and Ted Ruth, director of the design and construction management team at S&T, and his staff, acted as mentors and advisors during the design and construction phase of the project.
To learn more about Missouri S&T's Nest Home, visit solarhouse.mst.edu. For more information about the upcoming competition, visit solardecathlon.gov.