Missouri S&T professor earns distinguished status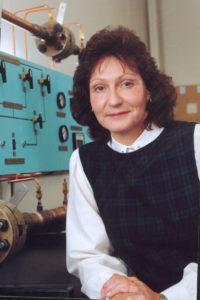 Dr. Shari Dunn-Norman, associate professor of petroleum engineering at Missouri University of Science and Technology, is a recipient of the Society of Petroleum Engineers' 2015 Distinguished Membership Award.
Dunn-Norman is one of 18 Distinguished Members named this year, making her one of fewer than one-half of 1 percent of the 124,000 SPE members in the world who have been so honored, she says, and the first from Missouri S&T.
Dunn-Norman has over 40 years in the field, including 26 years on the Missouri S&T faculty, encompassing hands-on work, teaching and research.
"SPE Distinguished Member is more of a holistic award focused on technical contributions and professional involvement," says Dunn-Norman, who at Missouri S&T works on production engineering, well completions, artificial lift and hydraulic fracturing.
Her industry field experience includes eight years for the Atlantic Richfield Companies — AIOGC, ARCO Oil & Gas — where she worked on domestic projects as well as international oilfield development in the North Sea, Indonesia and the South China Sea.
The coauthor of the 1998 book "Petroleum Well Construction," Dunn-Norman was at the forefront of keeping the Missouri S&T petroleum program alive when it was slated to be shut down in 2003. The SPE is grateful for the program's existence and the role she played in keeping it going, she says.
Dunn-Norman doesn't see herself as a trailblazer but as more of "a role model of consistency." And her award reflects that.
"They look for someone with many years of contributing to the field," she says.
Dunn-Norman earned a bachelor of science degree in petroleum engineering from the University of Tulsa (Oklahoma) in 1978 and a Ph.D. in petroleum engineering from Heriot-Watt University in Edinburgh, Scotland, in 1990.