Huang named interim chair of biological sciences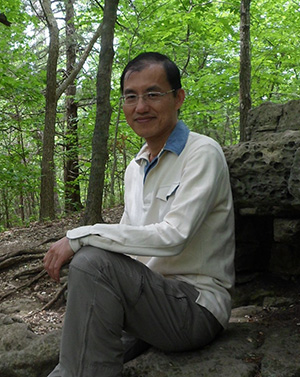 Dr. Yue-Wern Huang, professor of biological sciences at Missouri University of Science and Technology, has been named interim chair of biological sciences. The appointment takes effect July 1.
Huang takes over for Dr. Robert Aronstam, who has served as chair since 2004. Aronstam will become dean of the College of Science and Technology at Bloomsburg University in Bloomsburg, Pennsylvania on July 1.
"Dr. Huang will lead the department as it continues to recruit talented faculty and students, grow its academic programs, contribute to new research and educational ventures with corporate, academic, and government partners, and participate in the planning phase for the Schrenk Hall renovation," says Dr. Stephen Roberts, vice provost and dean of the College of Arts, Sciences, and Business at Missouri S&T, "I thank Dr. Huang for his willingness to take on such important tasks during this time of transition."
Huang joined the Missouri S&T faculty in 2000 as an assistant professor of biological sciences. He was named associate professor in 2006 and professor in 2012. Before joining Missouri S&T, he was a postdoctoral fellow at Michigan State University from 1998-2000.
An expert in environmental toxicology, Huang studies the effects of environmental estrogens such as pharmaceuticals, phytochemicals and industrial chemicals on humans and the environment. He is also working to develop nanocarrier platforms to deliver biologically active molecules "in vitro" and "in vivo" for basic science research and biomedical applications. And he is investigating the toxicity of nanomaterials to assess their risk to human health.
Since arriving at Missouri S&T in 2000, Huang has delivered 33 invited seminars and speeches at international universities and at agencies like the National Institutes of Health and the Environmental Protection Agency. He has published numerous journal articles, conference presentations and book chapters.
In 2014, Huang was one of nine speakers invited to the Frontiers in Biopharmaceuticals Conference sponsored by Taiwan National Science Council. He reviews grant proposals or research programs for the United Kingdom Medical Research Council, Oak Ridge Associated Universities and National Taiwan University. He is also an active reviewer for 24 journals with high impact factors, including "Accounts of Chemical Research," "Biomaterials," "Theranostics" and "Langmuir."
Among numerous honors, Huang is the recipient of the Missouri S&T Faculty Research Award and the Missouri S&T Faculty Excellence Award.
Huang earned bachelor of arts and master of science degrees from National Taiwan Normal University in 1986 and 1988, respectively. He earned a Ph.D. from the University of Wisconsin-Madison in 1998.