KMST recognizes Volunteer of the Year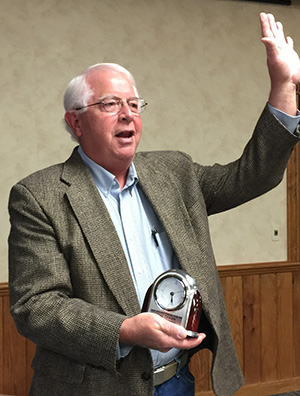 Missouri University of Science and Technology's public radio station KMST honored Mike Doyen as Volunteer of the Year at the station's annual Membership Reunion that was held April 23 at the Lions Club Den in Rolla.
KMST Station Manager John Francis thanked Doyen for his many years of work as the volunteer host of "Backyard Birder" and for his longtime service as a KMST volunteer.
This year's Membership Reunion was underwritten by Phelps County Bank. Swiss Meat and Sausage Co. of Hermann, Missouri, and Lee's Famous Recipe Chicken of Rolla supplied the food. Ozarks Coca-Cola/Dr. Pepper Bottling Co. of Rolla supplied the beverages.
KMST is a 100,000-watt non-commercial, educational station licensed to the Curators of the University of Missouri System. The station is located at 88.5 FM in Rolla and surrounding communities; 96.3 FM in Lebanon, Mo., at their translator facility; and online at www.kmst.org.