S&T's Jeff Schramm joins We the Humanities platform as curator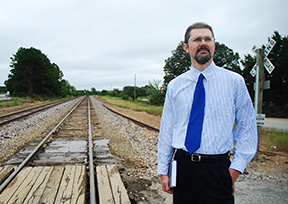 Dr. Jeff Schramm, associate professor of history and political science at Missouri University of Science and Technology, will join the international humanities Twitter account We the Humanities as guest curator April 6-12.
We the Humanities, @wethehumanities on Twitter, is a rotation-curation account that offers a central platform for discussion and news of the humanities in any form. It was modeled after the science platform, @realscientists.
Schramm, known on Twitter as @DRJSchramm, specializes in the history of technology with an emphasis on modern industrial technology. He has been on the Missouri S&T faculty since 2002.
Schramm is currently researching the scientific and technological research activities of the U.S. Bureau of Mines, which was a branch of the U.S. Department of Interior until the bureau was closed in the mid-1990s. In particular, Schramm is studying the activities of the bureau's Rolla Research Center and the Synthetic Liquid Fuels Plant at Louisiana, Missouri.
Schramm also is the author of Out of Steam: Dieselization and the American Railroads, 1920-1960, which was published in 2010.
"The We the Humanities project engages with people from around the world, exposing them to humanities research, experience and ideas they perhaps didn't know existed," says co-founder Jessica Sage (@academicjess). "Each week a new academic or practitioner takes over the account, tweeting about their work and provoking conversations about the diversity and importance of the humanities. We really look forward to Dr. Schramm running the account this coming week, and in particular his take on technology throughout history."
We the Humanities, which is now in its second year, has attracted tweeters from across six continents, ranging from professors to masters students and from museum curators to musicians. The discussions engages with more than 2,400 followers from across the world, including everyone from lifetime specialists to the mildly curious. The account has developed to include a blog and events listings, housed at wethehumanities.org.
"We encourage anyone working within the humanities who might be interested in curating the account to get in touch through the website," says co-founder Kristina West (@krisreadsbooks). "We aim to create a vibrant, international community to raise awareness of the diversity, relevance and challenges that encompass what is called the humanities."