Big changes headline KMST's Spring Membership Drive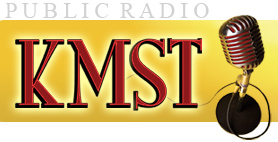 As Public Radio KMST staff prepares for the Spring Membership Drive, new station manager John Francis is busy rolling out several new changes to the drive format.
"We've been listening to member comments over the years and we're aware that long membership drives aren't necessarily popular, so this year we've shortened the on-air portion of the drive from a nine-day drive to a four-day drive with a goal of 450 membership pledges," said Francis.  "Cyber Drive will last five days, Feb. 21-25, with the on-air portion from  Feb. 26 to March 1."
According to Francis this is the model KMST would like to use for all future drives.
"We hope our listeners will embrace this new change and enjoy more program time and less pledge drive time," said Francis, "but we do want to remind everyone that in order for this to work, we need you to pledge early, and not put it off until the last minute. With this new pledge drive format, KMST makes a pledge to you — as soon as we reach 450 pledges, the drive will be over."
The money raised from the drive goal will help KMST continue to offer high quality programming, including nationally acclaimed, award-winning Morning Edition, All Things Considered, Marketplace and The Diane Rehm Show. In addition to these flagship programs, KMST offers a variety of formats that include local and national news, talk, classical, jazz, acoustic folk, blues, big band, bluegrass, African, Caribbean, Celtic and more.
If you would like to make your pledge to KMST immediately, you can go online at kmst.org or call during the on-air membership drive at 573-341-4949 in the Rolla area, or toll-free at 888-776-5678.
KMST is a 100,000-watt non-commercial public radio station licensed to the Curators of the University of Missouri System, with listeners from 47 states and 41 countries through its website. KMST is located at 88.5 FM in the Rolla area and 96.3 FM in Lebanon and online at kmst.org.