John C. McManus named Curators' Professor at Missouri S&T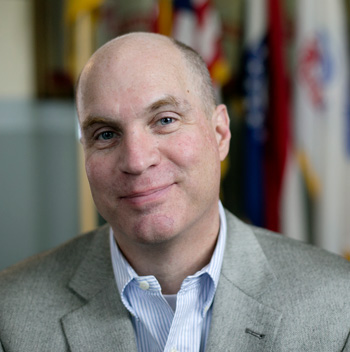 Dr. John C. McManus, professor of history and political science at Missouri University of Science and Technology, has been named Curators' Professor of history and political science. McManus will be officially recognized during commencement ceremonies at S&T on Friday, Dec. 19.
The University of Missouri Board of Curators bestows the Curators' Professor title upon outstanding scholars with established reputations in their field of study. McManus is the first Missouri S&T faculty member in a humanities or social sciences field to be named Curators' Professor.
An internationally recognized authority on U.S. military history, McManus is the author of 11 books on the subject. His latest book, The Dead and Those About to Die — D-Day: The Big Red One at Omaha Beach, was published in April 2014. From April through June, McManus traveled across the country on an invited speaking tour to discuss the book.
McManus joined the Missouri S&T faculty as a lecturer in 2000. He was named assistant professor in 2003, associate professor in 2007 and professor in 2012.
McManus earned a Ph.D. in history from the University of Tennessee in 1996. He earned a master of arts degree in history in 1991 and a bachelor of journalism degree in 1987, both from the University of Missouri-Columbia.
A member of the editorial advisory board at World War II magazine and Global War Studies, McManus is the historical advisor for a forthcoming PBS documentary titled "The American Road to Victory."
He received the 2012 Missouri Governor's Award for Excellence in Teaching and was named the 2012 Research Fellow by the First Division Museum at Cantigny Park. In 2007, he was named to History News Network's list of Top Young Historians and in 2008 he received the Missouri Conference on History Book Award for Alamo in the Ardennes: The Untold Story of the American Soldiers Who Made the Defense of Bastogne Possible.