'FROGZ!' to visit Missouri S&T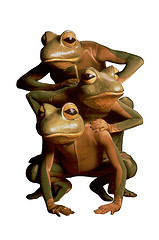 The family friendly mime and dance show "FROGZ!" will visit Missouri University of Science and Technology this month. The performance is part of the Missouri S&T's 2014-15 Leach Theatre Family Series. "FROGZ!" features ingenious masks, mesmerizing movement, outlandish costumes and an original musical score.
The show, produced by Imago Theatre, will be performed at 6 p.m. Thursday, Oct. 30, in Leach Theatre of Castleman Hall, 10th and Main streets in Rolla. The performance is recommended for ages 3 and up. Children attending are also encouraged to wear their Halloween costumes to the show.
Tickets are $14 for the general public and $10 for Missouri S&T students with a valid ID. Tickets are available online at leachtheatre.mst.edu/familyseries/14-15/imago/. Tickets can also be purchased 9 a.m. to 4 p.m. Monday through Friday from the Leach Theatre Box Office, located in the vestibule inside the main entrance to Leach Theatre, facing 10th Street.
"FROGZ!" combines outlandish scenes where animals and inanimate objects take on human characteristics. Scenes include penguins playing musical chairs, orbs running wild and a cat trapped in a giant paper bag. The show has had two Broadway runs and The New York Times called it "a mastery of mime, dance and acrobatics."
For more information about the Oct. 30 performance, or to purchase tickets, contact the Missouri S&T Leach Theatre Box Office at 573-341-4219. More information about the Leach Theatre Family Series is available online at leachtheatre.mst.edu/familyseries/.