Provost Wray steps into new role at Missouri S&T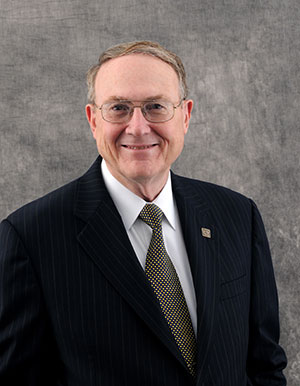 After nearly eight years at Missouri University of Science and Technology, Dr. Warren K. (Kent) Wray is taking on a new role at Missouri S&T.
Wray joined Missouri S&T as provost and executive vice chancellor of academic affairs in August 2006 and served as interim chancellor from September 2011 through March 2012. On July 14, he will become vice chancellor for global and strategic partnerships for Missouri S&T. The position was established as part of Missouri S&T's strategic plan priorities to expand the university's efforts in global and online learning, international affairs, and corporate relations.
"I welcome this new challenge and the opportunity to further raise awareness of Missouri S&T's outstanding academic and research programs in these important and growing areas," Wray says. "Missouri S&T's global reputation for excellence has been strong since our origins. In today's increasingly competitive and interconnected world, however, it's even more important that Missouri S&T strengthen our reputation as a global university relevant to rapidly changing societal and economic needs."
"Kent has been a strong and vital leader for our university and has guided us through a period of tremendous growth in enrollment, research support, global partnerships and online learning," says Missouri S&T Chancellor Cheryl B. Schrader. "I'm thankful that Kent has agreed to continue to contribute in a leadership role as vice chancellor for global and strategic partnerships."
As Wray moves into the new position, Dr. Robert Marley will become Missouri S&T's next provost. Marley, a former dean of engineering at Montana State University and current interim vice president for student success there, will become provost on July 14.
In Wray's new position, he will oversee Missouri S&T's international and cultural affairs and global and online learning programs, as well as the potential development of Sichuan Missouri University in Chengdu, China. In 2011, Missouri S&T and the University of Missouri-St. Louis announced a partnership with China's Tianfu College to establish the new university.
Under Wray's leadership as provost, Missouri S&T experienced record student enrollment, growth in online learning offerings and enrollment, and growth in research funding.
After former Chancellor John F. Carney III retired, Wray served as interim chancellor from Sept. 1, 2011, through March 31, 2012.
Prior to joining S&T, Wray served as provost at Michigan Technological University in Houghton, Michigan, from 2000 to 2005, and as dean of Ohio University's Fritz J. and Dolores H. Russ College of Engineering and Technology from 1996 to 2000. He also served as Ohio University's Cruse Moss Professor of engineering education during that time. Earlier, he was professor and chair of civil engineering at Texas Tech University from 1990 to 1996.
Wray holds a bachelor of science degree in physics with a history minor from Washburn University in Topeka, Kansas, and a bachelor of science degree in civil engineering from Kansas State University in Manhattan, Kansas. He also holds a master of science degree in civil engineering from the Air Force Institute of Technology and a Ph.D. in civil engineering with a focus on geotechnical engineering from Texas A&M University.