Stephen P. Roberts named vice provost and dean of arts, sciences and business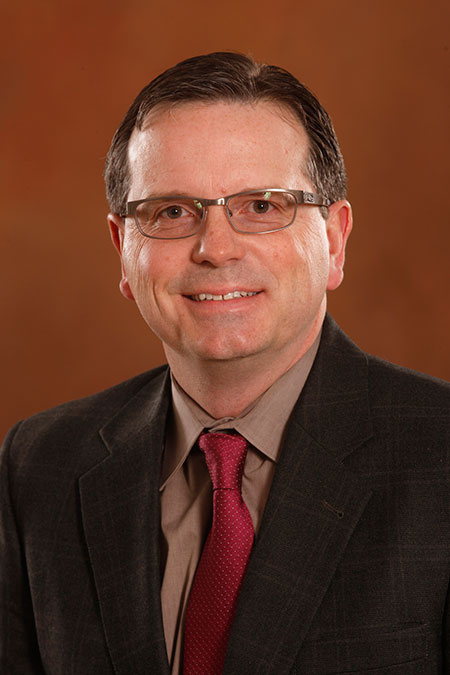 Dr. Stephen P. Roberts, professor and chair of biology at Central Michigan University, has been named vice provost and dean of the newly formed College of Arts, Sciences and Business at Missouri University of Science and Technology.
Missouri S&T Chancellor Cheryl B. Schrader announced Roberts' appointment today (Monday, June 23, 2014). His appointment takes effect Aug. 4.
"Dr. Roberts is a renowned scholar and researcher who has also developed a strong record of academic leadership and distinguished service," Schrader says. "We're very pleased to have him join our dynamic leadership team, and I look forward to his contributions, and those of his college, as we move forward under our bold strategic plan."
"I'm extremely excited to be joining the Missouri S&T community," Roberts says. "I'm drawn by S&T's strong leadership team, outstanding students, distinguished faculty who are committed to scholarship and education, and visionary strategic plan that was carefully developed with input from many different stakeholders. S&T is clearly an institution that is brimming with history, innovation and ambition, and I look forward to leading the S&T College of Arts, Sciences and Business as it grows, improves and diversifies its academic and research programs."
Roberts joined Central Michigan University in 2009 as professor and chair of biology. He leads a department of 30 tenure-track faculty, seven fixed-term faculty, 10 staff members, 1,000 undergraduate students and 70 graduate students. Under his leadership, undergraduate enrollment in the department grew by 115 percent from 2009 to 2012, while graduate enrollment grew by 40 percent. He was an active leader in the procurement of $30 million from the state of Michigan and the planning for the $95 million, 157,000 square-foot Bioscience Building now under construction on Central Michigan University's main campus.
At Missouri S&T, Roberts will lead the newly established College of Arts, Sciences and Business. The college includes the departments of applied mathematics; arts, languages and philosophy; biological sciences; business and information technology; chemistry; economics; English and technical communication; history and political science; physics, and psychological science. The college also includes Missouri S&T's Air Force ROTC, Army ROTC and teacher certification programs.
Roberts earned a Ph.D. in biology from Arizona State University in 1998. He earned his bachelor of science and master of science degrees in biological sciences from Illinois State University in 1990 and 1992, respectively.
Prior to joining Central Michigan, he was on the biological sciences faculty of the University of Nevada-Las Vegas, where he served as assistant professor from 1999 to 2005 and associate professor from 2005 through 2009. He also served as associate director of UNLV's School of Life Sciences from 2006 to 2007 and director of the School of Life Sciences' core laboratories from 2006 to 2009.
Before joining UNLV, Roberts held a postdoctoral research associate appointment in the University of Chicago's department of organismal biology and anatomy.
Roberts' research is related to the integrative biology of insects. His studies focus on how insects fly, how body temperature is regulated during extreme activity, and how age and behavioral specialization in social groups affect senescence and longevity. He specializes in the study of honeybees and solitary bee species, and has won several research awards from the American Physiological Society and the Society for Integrative Comparative Biology. He's received research funding from the National Science Foundation, the National Institutes of Health and NASA.
He is the co-author of one book, Ecological and Environmental Physiology of Insects, published in 2012 by Oxford University Press, and has authored or co-authored more than 40 journal articles and manuscripts.
In addition to spending time with his wife, Julie, and their three teenage children, Roberts enjoys fly-fishing, adventure traveling, motorcycling and nature photography.