Missouri S&T's Formula car design teams ready to race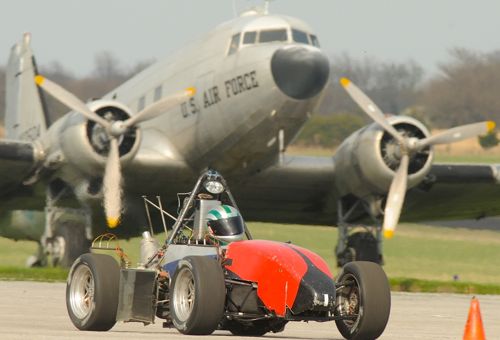 Two teams of students from Missouri University of Science and Technology will demonstrate their Formula One-style racecars at Formula SAE-Lincoln, a national student design competition sponsored by the SAE International.
The competition, held June 18-21, at the Lincoln Airpark in Lincoln, Neb., challenges students to design, build and operate small scale Formula One-style racecars. The competition features two separate categories – one for traditional combustion engines and one for fully electric vehicles. Missouri S&T's Formula SAE and Formula SAE Electric teams will both compete at the event.
Following a business presentation that includes the car design's budget and the engineering principles behind the car's design, teams will compete in four dynamic event.
A skid-pad event tests the car's turning and cornering on a figure-eight-shaped course. An acceleration test measures the car's speed over a distance of 246 feet (or 75 meters). A one-lap autocross event proves the car's maneuverability on a tight course and determines the starting order for the final event – an endurance race to prove durability. In the endurance race, the car must withstand the stress of long-term driving at elevated speeds over a 13.6 mile (22 kilometer) course. Each race is timed to rank the teams; none of the events are head-to-head races.
The combustion-style Formula SAE car has a four-cylinder engine and a rear spoiler made of carbon fiber. Its custom aerodynamics package produces a large amount of down force and is designed to help the car grip better while cornering. The car has undergone eight hours of wind tunnel testing.
In May, the combustion-style team earned 12th place at the Formula SAE-Michigan competition. The team hopes to improve its standing at this competition by devoting more time to driver training.
This is the Formula SAE Electric Team's first competitive event. Its car has a student-made steel chassis, a fiberglass protective shell and a student-designed suspension system. The car's battery pack, which is cooled by three separate radiators, can produce a maximum voltage of almost 300 volts and a current of nearly 200 amps.
Dr. Hank Pernicka, associate professor of mechanical and aerospace engineering at Missouri S&T, is the Formula SAE Team's faculty advisor, while Dr. Ryan Hutchinson, assistant teaching professor of mechanical and aerospace engineering at Missouri S&T, is the Formula SAE Electric Team's faculty advisor. For more information about the events, visit students.sae.org.