Construction begins on new pedestrian walkway at S&T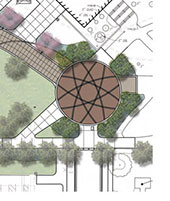 Construction crews have begun work at Missouri University of Science and Technology to transform a closed portion of State Street on campus into a pedestrian walkway.
Known as the University Promenade, the new walkway will begin between the Havener Center and McNutt Hall where the former State Street meets U.S. Highway 63. It will end with a circular design inspired by an atom near the north intersection of State Street and Miner Circle.
As part of the project, the street, curb and guttering, and sidewalks will be removed and replaced with a stamped concrete pathway. The area will feature attractive landscaping and enhanced lighting. The project began June 2 and is expected to be complete by Aug. 15, in time for students to return to campus for the fall semester.
"The goal of the project is to turn the current area into a more pedestrian-friendly pathway while enhancing the appearance of the area," says Ted Ruth, director of design and construction management for Missouri S&T. "This project is a continuation of our landscaping master plan that has been implemented over the past decade in an effort to improve the overall environmental beautification of the campus."