Beetner named chair of electrical and computer engineering at S&T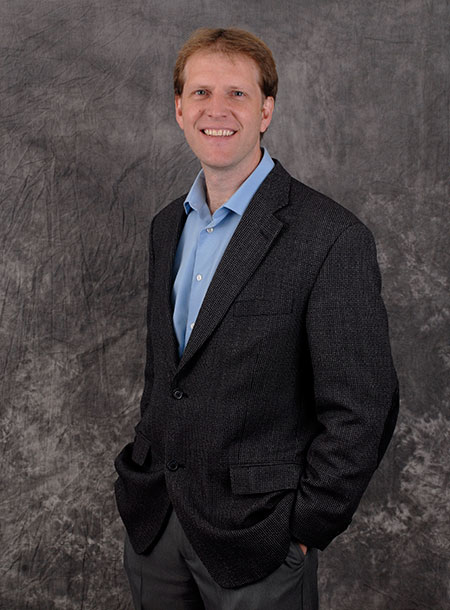 Dr. Daryl Beetner, professor of electrical and computer engineering at Missouri University of Science and Technology, has been named chair of the electrical and computer engineering department at Missouri S&T. The appointment takes effect Aug. 1.
Beetner will take over from Dr. Kelvin Erickson, who has served as chair since 2003. Erickson will step down as chair, but will remain on the faculty as professor of electrical and computer engineering. Beetner was selected following a search led by Dr. Jagannathan Sarangapani, the William A. Rutledge-Emerson Electric Co. Distinguished Professor in Electrical Engineering at Missouri S&T.
"Dr. Beetner has the right background to lead the electrical and computer engineering department to the next level," says Missouri S&T Provost Warren K. Wray. "His record at Missouri S&T suggests that he values all parts of being a faculty member – not just research, not just teaching, not just service, but all three. The fact that he has done well in each of these areas suggests that he has the capacity to be a good faculty leader. I look forward to working with him in this new role."
Beetner joined the Missouri S&T faculty as an assistant professor of electrical and computer engineering in 1998. In 2004, he was named associate professor. He was named professor in 2010.
"I am motivated to see the department continue to deliver outstanding education, to be a source of leading-edge research, and to be a great place for faculty, staff, and students to work and grow," Beetner says. "Our department is already an example of academic excellence, and has the potential to be even better."
Beetner, who also chairs the University of Missouri Research Board, has brought in nearly $16 million in sponsored research from the National Science Foundation, industry, the military, national laboratories and the Department of Homeland Security, as well as philanthropic organizations. He helped develop Missouri S&T's Center for Electromagnetic Compatibility, one of the NSF's most successful Industry and University Cooperative Research Centers.
Most of Beetner's research is focused on electromagnetic compatibility of integrated circuits, but he also works with the detection and neutralization of the electronic devices used in improvised explosives. He has performed research in humanitarian de-mining, detection of skin cancer using the electrical characteristics of the skin and in development of educational materials.
He holds two patents, has authored 29 journal articles, a book chapter, three patent invention disclosures and 66 conference articles. He teaches a wide variety of courses in both electrical and computer engineering, has developed a graduate-level course and made substantial revisions to two labs and two undergraduate courses. For the past six years, he has served as director and instructor of the CHIPS/Cyberminer Camp, an activity designed to attract high school students to computer engineering.
Beetner has won local, regional and national awards for teaching, research and service, including the Missouri S&T Faculty Excellence Award and the C. Holmes MacDonald Outstanding Young Electrical Engineering Professor Award. He has served in more than 12 officer positions in professional organizations and served as faculty advisor to students in Eta Kappa Nu and the Institute of Electrical and Electronics Engineers (IEEE).
Beetner is a senior member of IEEE and a member of the IEEE Electromagnetic Compatibility Society, Sigma Xi and Eta Kappa Nu Electrical and Computer Engineering Honor Society.
He earned a bachelor of science degree in electrical engineering from Southern Illinois University at Edwardsville in 1990. He earned master of science and doctor of science degrees in electrical engineering from Washington University in St. Louis in 1994 and 1997, respectively.
Along with Sarangapani, other members of the search committee include Dr. Kelvin Erickson, chair and professor of electrical and computer engineering; Dr. Wayne Huebner, chair of materials science and engineering and professor of ceramic engineering; Dr. Jonathan Kimball, assistant professor of electrical and computer engineering; Dr. Sahra Sedighsarvestani, associate professor of electrical and computer engineering; and Dr. Derald Morgan, an electrical engineering graduate of Missouri S&T and a member of the Missouri S&T Academy of Electrical and Computer Engineering.