Longtime civil engineering professor Paul Munger dies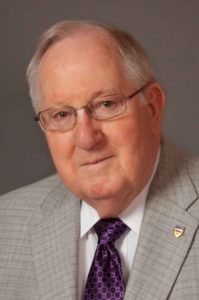 Dr. Paul R. Munger, professor emeritus of civil engineering at Missouri University of Science and Technology, died on April 19 at age 82. He served on the Missouri Board for Architects, Professional Engineers and Land Surveyors for 17 years, with 14 years as chair. During this time, Munger was involved in the investigation of the 1981 collapse of the Hyatt Regency skywalks in Kansas City, Mo., one of the deadliest structural failures in U.S. history. He led the licensing disciplinary actions following the tragedy.
His work to change registration procedures following the collapse earned Munger the Outstanding Service Award from the Missouri Society of Professional Engineers and the Distinguished Service Award from the National Council of Examiners for Engineering and Surveying.
Other awards include the Distinguished Service and Distinguished Member awards from the National Society of Professional Engineers, the President's Award and 2011 Edmund Friedman Professional Recognition from the American Society of Civil Engineers, and the Presidential Award from MSPE. Munger was an NSPE Fellow, an ASCE Fellow and an MSPE Hall of Fame inductee.
His extensive leadership roles included serving as national president of Chi Epsilon, president of the NCEES, president of the National Institute of Engineering Ethics, charter president of the Council of Engineering Specialty Boards and president of the National Council of Engineering Ethics.
On campus, he was a member of the Academy of Civil Engineers and served as director of the Institute of River Studies. He was an expert on the environmental and economic impact of water problems related to the Missouri and Mississippi rivers.
Munger earned bachelor of science and master of science degrees in civil engineering from Missouri S&T in 1958 and 1961, respectively. He earned a Ph.D. from the University of Arkansas in 1972 and was a member of the university's Academy of Civil Engineers. He joined the Missouri S&T faculty in 1958 and retired in 2000.
Visitation will be held from 3 to 8 p.m. Wednesday, April 23, at Null and Son Funeral Home, 1010 Kingshighway, in Rolla. A funeral service will be held at 10 a.m. Thursday, April 24, at Immanuel Lutheran Church, 801 W. 11th St., in Rolla.