S&T student muralist to be honored at reception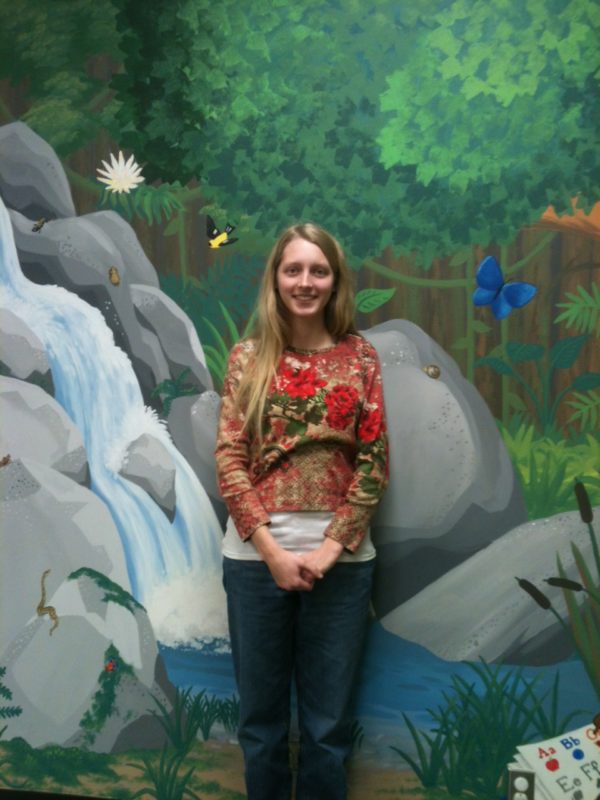 Lara Edwards, a senior in biological sciences at Missouri University of Science and Technology from Rolla, painted a mural on the walls of the Leola Millar Children's Library at the Rolla Public Library for her Art in the Community class last summer. Edwards will be honored at a reception in the children's library, located at 900 N. Pine Street in Rolla, at 6 p.m. Monday, March 10. The Rolla community is invited to attend.
At the reception, the mural will be dedicated and Edwards will be presented with a certificate of public service. The event will feature live music from some S&T student musicians and light refreshments will be served.
Under the direction of Lucille Myers, lecturer in arts, languages, and philosophy at S&T, and with some help from another S&T student, Michael Crabtree, on gridding the layout of the library, Edwards designed the mural and all of the animals and characters in it.
Edwards continued her work on the mural even after the class was done, committing more than 100 hours of her time to its completion. Once she had completed the mural, one of S&T's service sororities, Lambda Sigma Pi, sealed the mural to ensure its longevity. The mural includes scenes of outer-space, a jungle, nighttime in the desert and more.
Myers coordinated the event to honor Edwards' exceptional work and to ensure that it does not go unnoticed. "When you find a student who has this kind of vibrating gem inside them, it's exciting and you don't want it to go unnoticed," she says. "I'm so happy to see her flourish."
For more information on the mural or the reception, contact Myers at lmeyers@mst.edu or by calling 573-341-4185. For more information on the S&T arts, languages and philosophy department, call 573-341-4869.