S&T student design teams ready to continue their winning ways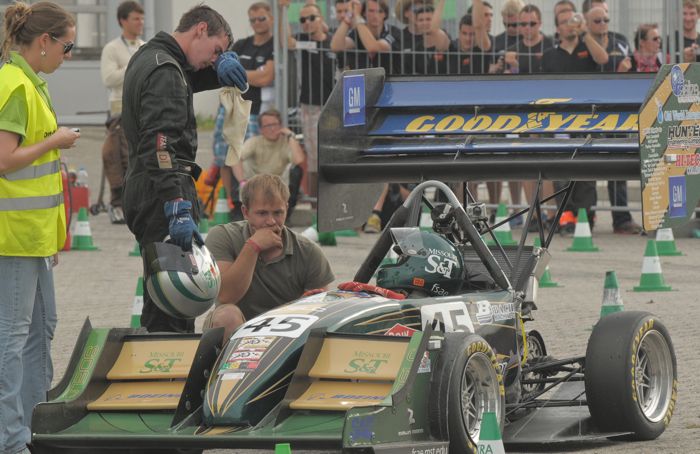 Spring is student design season at Missouri University of Science and Technology. At any given time during the semester you can see students constructing solar-powered houses, driving Formula-style cars around campus parking lots or floating concrete canoes on a local lake.
These are just a few examples of the 14 interdisciplinary design teams housed in Missouri S&T's Student Design and Experiential Learning Center. The center provides more than 600 S&T students with leadership, networking and technical learning opportunities through industry-sponsored design competitions.
Design team competitions run throughout the year, beginning the season with the Advanced Aero Vehicle Group in Fort Worth, Texas, on March 28, and concluding with the iGEM (International Genetically Engineered Machines) team competition in Boston on Oct. 30.
Throughout the year, Missouri S&T will report on each team's project and the details of their upcoming competitions. To keep up-to-date with the design teams, visit design.mst.edu and look for their stories on news.mst.edu. The teams include:
Advanced Aero Vehicle Group – Builds a rocket and airplane that must complete a controlled flight while performing designated in-flight tasks.
Baja SAE Team – Designs and builds a prototype off-road vehicle for recreation and then races it on an off-road course with multiple obstacles.
Concrete Canoe Team – After making a floating canoe out of concrete, team members compete in a number of trials to prove the canoe's functionality.
Engineers Without Borders – Teams of students travel to various countries in Central and South America during semester intersessions and help develop sustainable solutions to local infrastructural problems.
Formula SAE Racing Team – Designs and builds a Formula-style racecar, which is then raced against other university teams on various courses.
Formula SAE Electric Team – Designs, builds and races a full-sized battery-powered racecar at shorter, higher-speed events.
Human-Powered Vehicle Team – Designs and develops an enclosed, pedal-powered vehicle that focuses on aerodynamics and is raced against other university teams.
Hydrogen Design Solutions Team – Designs potential future infrastructure elements for fuel-cell or hydrogen-powered vehicles, like refueling stations or fast electric vehicle recharging.
International Genetically-Engineered Machines (iGEM) Team – A biological design group that uses synthetic biology, or genetically modified organisms, to solve world problems in agriculture, medicine, alternative energy and environmental contamination.
Mars Rover Team – Designs and builds a Mars rover that is then tested and completes tasks on terrain similar to Mars.
Robotics Team – Designs and builds a robot to complete a unique set of tasks. Each year's robot is different, as each season's task is different.
Solar Car Team – Designs, builds and pilots a solar-powered car capable of traveling 60 miles per hour, then races across the United States competing against teams from other universities.
Solar House Team – Designs and constructs a full-sized, solar-powered house. Competitions are held every two years. After competitions, the houses join the S&T Solar Village.
Steel Bridge Team – Designs and builds a scale-model steel bridge that can be quickly assembled, is light and economical and can support a substantial load.