Genda Chen named Abbett Chair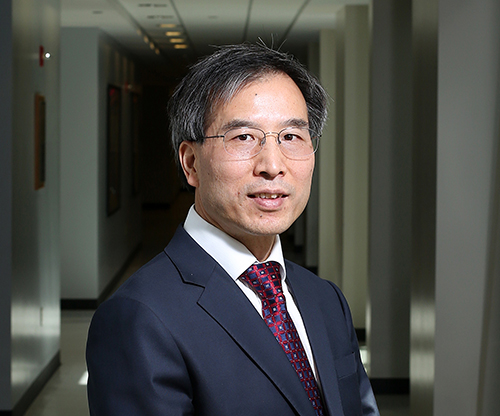 Dr. Genda Chen, professor of civil, architectural and environmental engineering at Missouri University of Science and Technology, has been named the Robert W. Abbett Distinguished Chair in Civil Engineering. The appointment takes effect July 1.
The chair was established in 2005 through a gift from the estate of Robert W. Abbett, a 1927 civil engineering graduate of the university.
"We are very pleased that Dr. Chen will take on this new challenge," says Dr. Cheryl B. Schrader, chancellor of Missouri S&T. "He brings a wealth of experience and innovation to the infrastructure area."
A member of the Missouri S&T faculty since 1996, Chen is associate director of the Mid-America Transportation Center, a consortium of eight universities designated as the Region VII University Transportation Center by the U.S. Department of Transportation.
After earning a Ph.D. degree in 1992 from The State University of New York at Buffalo and completing postdoctoral training at the National Center for Earthquake Engineering Research, Chen joined Steinman Consulting Engineers, a New York City-based bridge consulting firm. In 1993, he was hired as a lead seismic analysis engineer on the seismic evaluation project for the Queensboro Bridge, a double-deck, double-cantilever bridge that spans the East River in New York, the first major project of its kind on the East Coast.
Chen has been widely published for his pioneering research on structural behavior monitoring, inorganic enamel coating of steel rebar for enhanced corrosion resistance and bond strength in concrete, and a damping-enhanced strengthening strategy for performance-based earthquake engineering.
He was the lead inventor on a patent granted in 2008 for strain sensitive coax cable sensors for monitoring structures, in collaboration with Dr. James L. Drewniak, Curators' Professor of electrical and computer engineering at Missouri S&T, and Dr. David Pommerenke, professor of electrical and computer engineering at S&T. He was co-inventor on a patent granted in 2011 for corrosion-resistant glasses for steel enamels granted in collaboration with Dr. Richard K. Brow, Curators' Professor of material science and engineering at S&T.
Chen received the National Science Foundation's Faculty Early Career Development (CAREER) Award in 1998; the Joseph H. Senne Jr. Academy of Civil Engineers Faculty Achievement Award in 2004; and Missouri S&T Faculty Research Awards in 2009, 2011 and 2013.
He is active in the American Concrete Institute, American Society of Civil Engineers, Earthquake Engineering Research Institute, International Society of Optics and Photonics, International Society for Structural Health Monitoring of Intelligent Infrastructure, Structural Engineering Institute and Transportation Research Board. He is associate editor of the ASCE Journal of Structural Engineering and was a recent guest editor of Structural Engineering and Mechanics: an International Journal. He has served in leadership roles in ASCE committees and as an executive member of the U.S. Panel on Structural Control and Monitoring. He was elected an ASCE Fellow in 2007 and SEI Fellow in 2013.
Chen was an invited member of the U.S. Department of Transportation's post-earthquake reconnaissance teams following the 2008 earthquake in China and the 2010 earthquake in Chile, as well as the DOT's post-earthquake study tour following the Great East Japan Earthquake in 2011. He also served on the U.S. Geological Society's post-hurricane reconnaissance team following the 2005 Atlantic hurricane.