Women and STEM: A solution ready for flight
Posted by news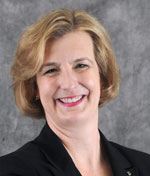 The following opinion piece by Missouri S&T Chancellor Cheryl B. Schrader was written for Engineers Week 2014.
During his recent State of the State Address, Missouri Gov. Jay Nixon put forth an ambitious plan to invest $22 million into education in the fields of science, technology, engineering and math, or STEM. It's a bold step in the right direction, and one that's needed to ensure the state keeps up with the increasing demand for professionals in these fields.
The Missouri Department of Economic Development reports that Missouri's 2020 projected job growth for STEM occupations is higher than the average expected combined growth of all occupations other in the state. Additionally, the U.S. Bureau of Labor Statistics predicts that Missouri will have an additional 143,000 STEM jobs to fill by 2018.
As chancellor of a science and technology university and an engineer, I've spent a lot of time thinking about the issue of bringing more people into this important field. It's clear to me that if we are ever going to come close to meeting the needs of our state and nation for these skilled workers, we're going to have to bring women into the equation.
Consider that while the majority of U.S. college students today are female, fewer than a quarter of all STEM workers are women. And while the gender gap in STEM has remained steady for the past 20 years, a recent national report from STEMconnector shows it is now widening at an alarming rate.
Furthermore, new research from the University of Texas at Austin examines the well-documented disparity between the number of boys and girls who take high school physics, a cornerstone course that can close doors for those who do not complete it. The researchers found that the communities in which the fewest women took physics were those where "traditionally gendered status expectations shape beliefs and behaviors." In short, the gender disparity was most acute in communities where girls lacked female role models in the STEM fields.
Why does all this matter? It matters because there is no sector of our economy poised for more growth than the STEM fields. It matters because the more diverse our workforce of engineers, computer programmers, mathematicians and scientists, the more likely we are to find solutions that further our society and grow the economy. It matters because it's just not right to leave half of the population out of the equation.
If you think we live in a post-gender world when it comes to STEM education, think again. Perhaps you noticed that commercial during the Super Bowl for Volkswagen — the one where an engineer "gets his wings" every time a VW crosses the 100,000-mile mark. If you watched closely, you might have noticed just one person of color was represented. But you didn't have to pay close attention to observe that no woman was shown getting her wings. Not one! This social narrative, unfortunately, is all too common and has a powerful effect not only on girls but also on their parents, teachers and mentors.
The narrative isn't limited to car sales. Just last fall, as back-to-school shopping was in full swing, apparel retailer The Children's Place filled its shelves with shirts for girls that featured a checklist of "My Best Subjects." "Shopping," "music" and "dancing" were checked, but "math" was not. Below it said, "Well, Nobody's Perfect."
After much ado online, The Children's Place eventually pulled the shirts and apologized. But the fact that these shirts even made it past the concept stage speaks volumes about the gross disparity that still exists between how we speak with boys and girls about their abilities and career opportunities in the STEM disciplines.
Fortunately, there are many silver linings, including another ad shown during the Super Bowl. This one was for GoldieBlox, a toy company whose mission is to inspire young girls to become future engineers. This ad was selected from thousands of entries in a contest held by Intuit to feature a small business. In the ad, neighborhood girls gather up all their pink "girly" toys, including a play washing machine and castle, and strap them to a rocket. The commercial ends with the company's tagline, "GoldieBlox: Toys for Future Innovators."
These issues garner quite a bit of discussion in my household where my 7-year-old daughter has recently announced her intention to become an engineer when she grows up. It's my hope that through my influence, her father's support, and through her teachers and peers, she won't find herself swayed by messages that tell her women don't belong in the STEM fields.
In fact, it's my hope for all girls.
But the truth is, it's still an uphill battle. Too often, we don't remind girls they, too, can build the bridges to tomorrow, find alternative energy solutions and refine our understanding of gravity.
It's my hope that our state will move forward with its support of STEM education — an investment that is sure to bring a high return. It's just as clear to me that we can't get where we want to go without bringing more women into these fields. We can and should earn our wings, too.