Former Powell residence to house student diversity, outreach, women's programs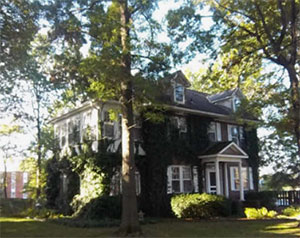 The office of student diversity, outreach and women's programs (SDOWP) at Missouri University of Science and Technology will soon have a new home in the former home of the late John D. Powell, a prominent Rolla business leader.
Later this year, the SDOWP office will relocate to Powell's former residence in the 600 block of West 11th Street. The university recently purchased the property.
The new location will bring diversity, outreach and women's programs under one roof, says SDOWP Director Cecilia Elmore. Currently, the programs are housed in two different locations on campus – in Centennial Hall and the Engineering Research Laboratory.
"As our student population continues to grow and become more diverse, it's important that we make services to our students as accessible and convenient as possible," says Missouri S&T Chancellor Cheryl B. Schrader. "Turning the historic Powell home into a hub for student services will provide a warm, welcoming atmosphere for those students who are traditionally underrepresented."
The SDOWP office recruits and supports S&T's female and traditionally underrepresented minority students. The office also coordinates summer camps and workshops for pre-college students, from first through 12th grade, as part of an effort to increase interest in science, technology, engineering and math (STEM) education. SDOWP also supports diversity-related programming and promotes awareness about female and multicultural issues to the entire campus community.
Powell was former president and co-owner of Powell's Lumber and Home Center, a company started by his father, the late Frank B. Powell, and formerly located at Sixth and Rolla streets in downtown Rolla.
John Powell was an active supporter of Missouri S&T, which he attended in the 1940s when it was known as the Missouri School of Mines and Metallurgy. He supported S&T athletics, was an Honorary Knight of St. Patrick and was a member of the Order of the Golden Shillelagh, Missouri S&T's donor-recognition society.
Powell died Sept. 1, 2012, at age 86.
"John Powell and the entire Powell family were very involved with our campus over the years, as students, alumni and active members of the Rolla community. We are grateful that John's legacy will live on through the renovation of the Powell residence to house this important resource to our students," Schrader says.
Renovation of the building is scheduled to begin this spring, with plans to move the SDOWP staff into the new location in the fall. The new home for SDOWP is also expected to play a central role in a yearlong celebration of Missouri S&T's first diversity outreach program, the Minority Engineering Program, which was established 40 years ago in 1974.
For more information about SDOWP, visit sdowp.mst.edu on the web, email asksdp@mst.edu or call 573-341-4212.