Tap your feet to the beat at S&T's Leach Theatre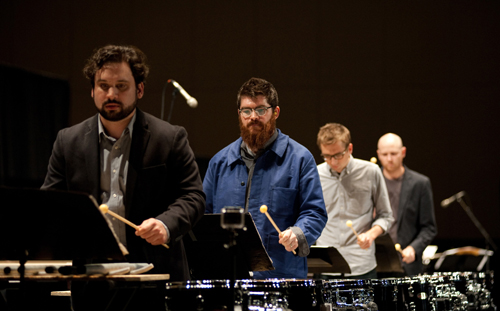 SO Percussion, a quartet of performers, will present a mix of composed and original music on a variety of traditional and non-traditional instruments at Missouri University of Science and Technology this February.
The group's performance will begin at 7:30 p.m. Monday, Feb. 3, in Leach Theatre of Castleman Hall, 10th and Main streets in Rolla. The show is part of Missouri S&T's 2013-14 Campus Performing Arts Series.
Tickets are $35 for adults and $25 for youth age 18 years and younger. The first 75 tickets for Missouri S&T students with student ID are free; additional S&T student tickets are $10. Tickets are required for this show, regardless of age.
Tickets may be purchased online at leachtheatre.mst.edu/cpas/cpas13-14/sopercussion/ or from the Leach Theatre Box Office, located in the vestibule inside the main entrance to Leach Theatre, facing 10th Street. Box office hours are 9 a.m. to 4 p.m. Monday through Friday.
The Brooklyn-based quartet, which formed at the Yale School of Music in 1999, is comprised of percussionists Eric Beach, Josh Quillen, Adam Sliwinski and Jason Treuting. The group has been called "brilliant" by the New York Times and "astonishing and entrancing" by Billboard Magazine.
Leach Theatre will offer discounted tickets through its "Back Row Club" one hour prior to the event, should tickets remain for the show. The seats in the last row of the theater will be sold for $10 each prior to the performance.
SO Percussion's performance is sponsored in part by 107.9 KCLQ-FM and The Kaleidoscope Weekly. For more information about the Missouri S&T Campus Performing Arts Series, call the Leach Theatre Box Office at 573-341-4219.