Enjoy an evening of ballet at Leach Theatre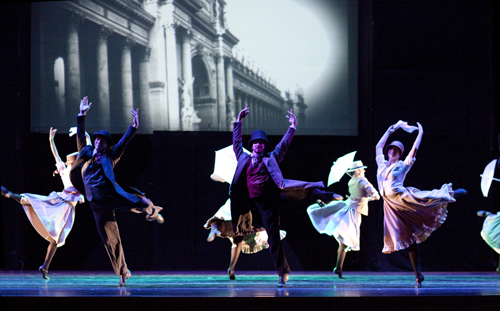 Contemporary dance company Thodos Dance Chicago will perform a story ballet at Missouri University of Science and Technology this January.
The group will perform "The White City: Chicago's Columbian Exposition of 1893." The ballet will begin at 7:30 p.m. Saturday, Jan. 25, in Leach Theatre of Castleman Hall, 10th and Main streets in Rolla. The show is part of Missouri S&T's 2013-14 Campus Performing Arts Series.
Tickets are $35 for adults and $25 for youth age 18 years and younger. The first 75 tickets for Missouri S&T students with student ID are free; additional S&T student tickets are $10. Tickets are required for this show, regardless of age.
Tickets may be purchased online at leachtheatre.mst.edu/cpas/cpas13-14/thewhitecity/ or from the Leach Theatre Box Office, located in the vestibule inside the main entrance to Leach Theatre, facing 10th Street. Box office hours are 9 a.m. to 4 p.m. Monday through Friday.
"The White City" tells the story of Chicago's 1893 World's Fair through dance and music. The show is a collaboration by jazz and Broadway choreographer Ann Reinking and contemporary choreographer Melissa Thodos. Thodos Dance Chicago's "The White City" was named 2011's "Best Dance in Chicago" by the Chicago Sun-Times.
Prior to the show, there will be a screening of Thodos Dance Chicago's documentary "Beneath the White Lights: The Making of an American Story Ballet." The video will be shown at 6:30 p.m. in the Black Box Theatre, Room 143, near the lobby of Leach Theatre. The documentary contains interviews with founding artistic director Melissa Thodos and dance choreographer Ann Reinking, as well as interviews with the dancers and a behind-the-scenes look at how they work to interpret their dance movements.
Leach Theatre will offer discounted tickets through its "Back Row Club" one hour prior to the event, should tickets remain for the show. The seats in the last row of the theater will be sold for $10 each prior to the performance.
Thodos Dance Chicago is sponsored in part by Baymont Inn and Suites, public radio station KMST and Phelps County Regional Medical Center. For more information about the Missouri S&T Campus Performing Arts Series, call the Leach Theatre Box Office at 573-341-4219.