Water.org co-founder tells S&T grads to follow their passion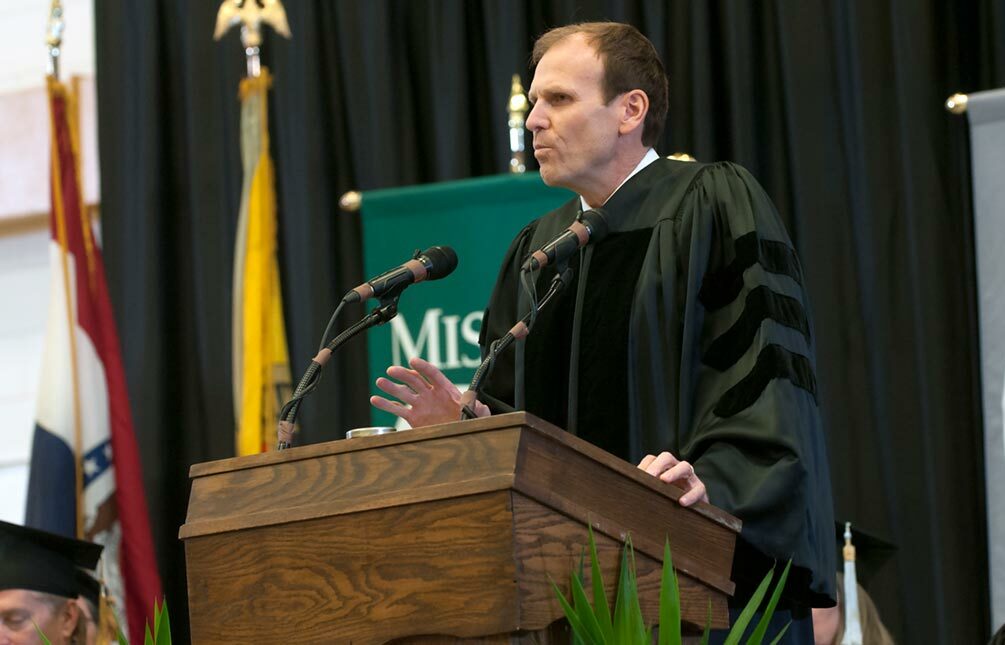 Let your passion lead you to address "the world's greatest needs," the co-founder of Kansas City, Mo., based Water.org, which helps people in developing nations gain access to safe water and sanitation, told graduates of Missouri University of Science and Technology.
Gary White, chief executive officer of Water.org, delivered both commencement addresses at Missouri S&T Friday, Dec. 13, and Saturday, Dec. 14 (Commencement videos).
White, who co-founded Water.org with actor Matt Damon, discussed his journey as a social entrepreneur and the relevance of his journey to graduates of today.
"Your life should be about finding the intersection of your greatest passion and the world's greatest needs," White told the graduates.
White's entrepreneurial vision has driven innovations in the way water and sanitation projects are delivered and financed. He is a leading advisor in the water and sanitation sector and a founding board member of the Millennium Water Alliance and WASH Advocates.
During commencement, White was awarded the doctor of engineering degree, honoris causa. He earned bachelor of science and master of science degrees in civil engineering from Missouri S&T in 1985 and 1987, respectively.
White also holds a master of science degree in environmental engineering from the University of North Carolina at Chapel Hill.
December 2013 commencement speaker Gary White, co-founder of Water.org, discusses his work to bring clean water and sanitation to developing countries.
In March 2009, Water.org, which White co-founded with actor Matt Damon, received the Skoll Foundation's Award for Social Entrepreneurship and White was inducted into the community of Skoll Social Entrepreneurs. In 2009, he was named an advisor to the Clinton Global Initiative. In 2011, he was named to the TIME 100 list of the world's most influential people. In 2012, he received the World Social Impact Award from the World Policy Institute, was named one of the Schwab Foundation Social Entrepreneurs of 2012 and was named one of Missouri S&T's 28 Alumni of Influence.