Celebrate 'A Folk Christmas' at Leach Theatre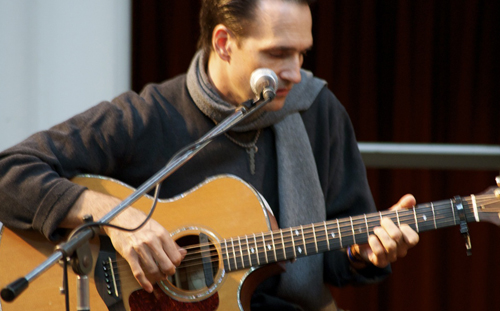 Eugene Ruffolo, a New York City-based singer, songwriter and guitarist, will perform "A Folk Christmas" at Missouri University of Science and Technology this holiday season.
A Leach Special Event, the performance will be held at 7:30 p.m. Friday, Dec. 13, at Leach Theatre in Castleman Hall, 10th and Main streets in Rolla.
Tickets for this special event are $25 for the public and $20 for youth age 18 and under. Tickets are available online or from the Leach Theatre Box Office, located in the vestibule inside the main entrance to Leach Theatre of Castleman Hall, facing 10th Street. Box office hours are 9 a.m. to 4 p.m. Monday through Friday. Group rates are available for 10 or more tickets purchased together. Call 573-341-4219 for more information.
Ruffolo has received critical acclaim in both the United States and Europe. His performance will feature seasonal standards "Let it Snow," "Baby It's Cold Outside" and "Jingle Bells" along with new compositions that complement the folk setting.
Leach Theatre will offer discounted tickets through its "Back Row Club" one hour prior to the event, should tickets remain for the show. The seats in the last row of the theater will be sold for $10 each prior to the show. Discounted family packages and a "date night" special, which includes two tickets to the show and a $50 gift certificate to Gordoz Restaurant or Matt's Steakhouse for $75, are also available.
Ruffolo's performance of "A Folk Christmas" is sponsored in part by Phelps County Bank and GoodRadio.TV.