S&T green roof research presented at international conference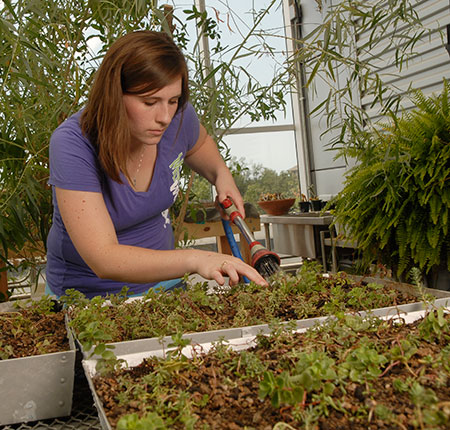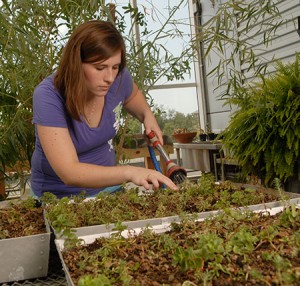 Missouri University of Science and Technology graduate Grace Harper spent her final year at Missouri S&T studying green infrastructure as an alternative to large-scale grey infrastructure projects for stormwater management. She presented the results of her research at the 10th International Phytotechnologies Conference in Syracuse, N.Y. this week.
With funding from the U.S. Geological Survey, Harper performed hydrologic studies on how a green roof attenuates stormwater flows. Her work led to the development of a computer model that can predict green roof water benefits before a roof is ever designed and built.
Harper, who earned a bachelor of science degree in geological engineering in 2012 and a master of science degree in environmental engineering in 2013, both from Missouri S&T, also studied the effects of wind erosion on green roof vegetation and the quantity and chemical composition of the water that drains off of the roof. Her results will be published in an upcoming issue of the journal Ecological Engineering.
Harper conducted her research on S&T campus rooftops, including a green roof test bed on the roof of Butler-Carlton Civil Engineering Hall and the new green roof atop Emerson Hall. The green roof features 20,000 plants arranged in the shape of a shamrock and provides research and teaching opportunities for Missouri S&T faculty and students.
The roof is divided into three sections, each covered with different roofing materials, which will allow S&T researchers to compare the water runoff control, water quality and thermal properties of each material.
The first section is a standard black rubber roof. The second section is covered in white thermoplastic polyolefin (TPO) roofing membranes. TPO roofing systems are believed to improve a building's energy efficiency by reflecting heat from the sun. They provide resistance to ultraviolet, ozone and chemical exposure.
The third section is a GAF-produced GardenScape roof. A base layer of TPO material is covered by a drainage system and then topped with regional vegetation planted in a growing medium similar to the topsoil found in central Missouri. Most of the 20,000 plants growing on the green roof are a variety of sedum and all were chosen for their ability to thrive in direct sun and wind with limited water.
"The green roof and its subsequent research projects were made possible through a unique collaboration," says Dr. Joel Burken, professor of civil, architectural and environmental engineering and director of Missouri S&T's Environmental Research Center. "The physical facilities department at Missouri S&T led the design of the roofing project, and placed the green roof mat and growing medium on the roof. More than 50 S&T volunteers placed the plants; Luce Myers, a lecturer in art at Missouri S&T, created the shamrock design."
Materials for the roof, valued at $75,000, were donated by GAF Materials Corp., the nation's largest roofing technologies firm. Helene Hardy-Pierce, vice president of technical services for GAF, was instrumental in securing the donation. Hardy-Pierce is a 1983 engineering management graduate of Missouri S&T and is a member of the Missouri S&T Board of Trustees.
"The green roof has turned into a teaching and research opportunity," says Burken. He says future projects could include green construction, sustainability and green infrastructure, which uses plants to reduce water pollution from urban watersheds while cutting costs and providing additional benefits.
With funding from RCI, Dr. Eric Showalter, associate teaching professor of civil, architectural and environmental engineering, is leading a project to study the thermal benefits of a green roof. The roof and the top floor of Emerson Hall are instrumented with a series of thermocouples to monitor temperature and energy flux.
This work led to a National Science Foundation Research Experiences for Undergraduates project. Tyler Hall, a junior in mechanical engineering at Northeastern University in Boston, worked at Missouri S&T with Burken and Showalter to install the thermocouples to allow for long-term thermal monitoring and energy modeling. This is also part of a larger project led by Dr. Jonathan Kimball, assistant professor of electrical and computer engineering at Missouri S&T.