NASA scientist to guest lecture at S&T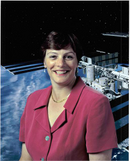 Former NASA scientist Dr. Kathryn Clark will speak about her experiences with leadership at NASA in an open lecture at Missouri University of Science and Technology in November. She will discuss what qualities make a good leader and what makes a great one.
Clark's lecture, titled "Find it, fix it, fly: Leadership and NASA Disasters," will begin at 8 p.m. Wednesday, Nov. 13, in Leach Theatre of Castleman Hall, 10th and Main streets in Rolla. The event is free and open to the public, however tickets will be required.
Tickets will be given away on a first-come, first-served basis and are limited to two per person. Tickets will be available from the Leach Theatre Box Office starting Friday, Nov. 1. The box office is located in the vestibule inside the main entrance to Leach Theatre. Box office hours are 9 a.m. to 4 p.m. Monday through Friday. Call 573-341-4219 for more information. To reserve tickets for groups of 10 or more, contact Dr. Jerri Arnold-Cook, director of leadership and cultural programs at S&T, at 573-341-7504 by Monday, Nov. 11.
Clark, president of Docere LLC and former chief scientist for the International Science Program and the Human Exploration and Development of Space Enterprise at NASA, will look at the three major disasters that have occurred in NASA history.
Specifically, she will examine the role of leadership during the Apollo 1 fire, the Challenger launch explosion and the Columbia break-up during re-entry. Clark will explain how NASA leaders handled these situations in real time and how they got the program back on track.
Clark's visit is sponsored by Missouri S&T's office of leadership and cultural programs. For more information about Clark's lecture, contact Arnold-Cook at 573-341-7504 or email arnoldcookj@mst.edu.