State Street to close on S&T campus
A portion of State Street on the Missouri University of Science and Technology campus will close Monday, Aug. 19, due to construction on the campus's geothermal energy project. During construction, traffic to the Havener Center will be redirected.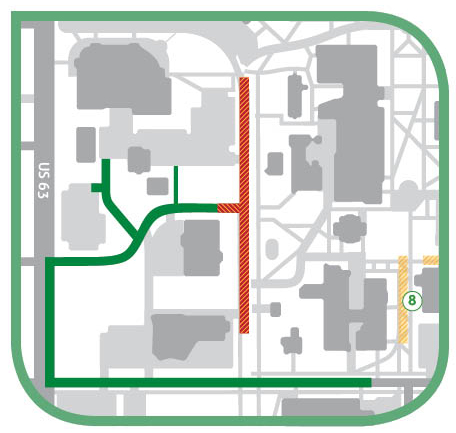 North State Street between 11th Street and Miner Circle will be closed Monday, Aug. 19, through Thursday, Sept. 12, to allow for installation of geothermal piping. To reach the Havener Center during this period, drivers are asked to follow U.S. Highway 63, also known as Bishop Avenue, to Miner Circle and then make the first left into the Havener Center parking lot.
Tau Kappa Epsilon members may still access the fraternity parking lot through the east entrance, entering from Miner Circle. The sidewalk on the east side of State Street will remain open during construction.
The northernmost section of State Street outside the Havener Center to the entrance to the Power Plant at Miner Circle will be closed from Sept. 26 to Oct. 18. The eastern entrance to the Havener Center parking lot will remain closed during this period.
Missouri S&T's geothermal energy project is the most comprehensive initiative of its kind in higher education. When completed in 2014, the project will supply energy to 15 campus buildings and the campus chilled-water system, which serves much of the university. Initially, the system is projected to save more than $1 million in energy and operational costs annually. That savings is expected to grow to $2.8 million annually in future years.
"The geothermal project is going well and is on schedule," says Fred Stone, design engineer in design and construction management at S&T. "We have had minor setbacks in some areas due to the recent heavy rains, but the project is still on schedule to be completed in 2014."
For additional information and construction schedules, visit the geothermal energy project website at geothermal.mst.edu.