Doc Severinsen and His Big Band begins performing arts series at S&T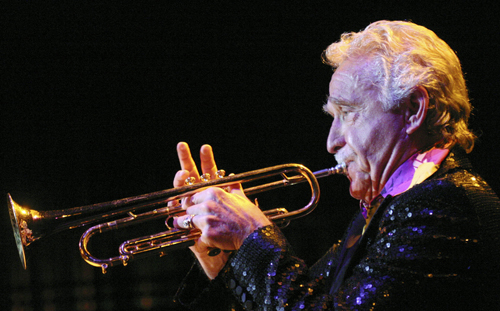 Doc Severinsen, bandleader of "The Tonight Show" with Johnny Carson, will be the first entertainer in the 2013-2014 season of the Campus Performing Arts Series at Missouri University of Science and Technology this fall.
Doc Severinsen and His Big Band will perform at 7:30 p.m. Monday, Sept. 30, in Leach Theatre of Castleman Hall on the Missouri S&T campus, 10th and Main streets in Rolla.
Additional shows in the 2013-2014 Missouri S&T Campus Performing Arts Series include:
– Cantus, 7:30 p.m. Thursday, Oct. 10. An all-male vocal ensemble will perform music from the Renaissance through the 21st century.
– Beyond Glory, 7:30 p.m. Friday, Nov. 1. This one-man performance by Stephen Lang portrays the stories of eight Medal of Honor recipients from World War II, the Korean War and the Vietnam War.
– Christian Howes, 7:30 p.m. Friday, Nov. 22. Howes, an award-winning jazz violinist, will perform music from his recently release album "Southern Exposure," which draws from Spanish, Brazilian, Cuban and other Hispanic influences.
– Thodos Dance Chicago, 7:30 p.m. Saturday, Jan. 25, 2014. A contemporary dance company will perform "The White City: Chicago's Columbian Exposition of 1893," a story ballet about the 1893 World's Fair.
– So Percussion, 7:30 p.m. Monday, Feb. 3, 2014. Founded in 1999 at the Yale School of Music, this quartet uses percussion instruments to covey emotion in music by current composers and in their own original works.
– The Fantasticks, 7:30 p.m. Friday, Feb. 28, 2014. This performance is a steampunk-inspired adaption of the classic musical about young lovers.
– Broadway by Jeri, 7:30 p.m. Thursday, April 17, 2014. Broadway veteran Jeri Sager will perform a one-woman show featuring an array of hit songs.
Season tickets for all eight CPAS performances are $200 for adults and $160 for youth age 18 and younger and may be paid for in monthly installments. Half-season CPAS packages offer any four of the eight CPAS shows for $120 for adults and $100 for youth. A variety package for $160 for adults and $120 for youth allows subscribers to pick any six shows from CPAS, Leach Special Events Series and Leach Family Series.
The 2013-2014 Missouri S&T Leach Special Events Series includes:
– Jeanne Robertson, 7:30 p.m. Saturday, Sept. 7. Humorist Jeanne Robertson turns personal experiences into stories that are funny and illustrate her strategy for success.
– A Folk Christmas, 7:30 p.m. Friday, Dec. 13. Singer, songwriter and guitarist Eugene Ruffolo, will perform many traditional holiday standards with a unique arrangement of guitar, strings, percussion and harmonica.
– Say Goodnight Gracie, 7:30 p.m. Thursday, April 24, 2014. Alan Safier will perform as George Burns in this one-man hit Broadway comedy.
The 2013-2014 Missouri S&T Leach Family Series includes:
– Adam Trent, 7 p.m. Friday, Oct. 4. Described as "Justin Timberlake meets David Copperfield" in GP4T Magazine, Trent's performance combines singing and dancing with innovative stage illusions.
– Hot Peas 'N Butter, 7 p.m. Nov. 8. This unique children's musical group will perform a range of music with elements of traditional Latin music, Afro-Caribbean rhythms, jazz, folk and rock.
– Lynn Trefzger, 7 p.m. Feb. 1, 2014. This ventriloquist offers a comedy show with audience interaction that features a goofy camel, a grumpy old man and a feisty little girl.
Leach Theatre has a ticket exchange program this season, which is available to season subscribers only. Subscribers to any of the three Leach Theatre season ticket packages may exchange their tickets for another show at any time throughout the season, with 48 hours advance notice (some restrictions apply).
Season subscriptions are available now and will continue through the end of August. Call the Leach Theatre Box Office at 573-341-4219 for more information.
Single tickets for 2013-2014 events will go on sale Aug. 19. At that time, Leach Theatre will offer special discounts on single-ticket purchases for Missouri S&T faculty and staff, military and seniors 65 and older. For more information about the S&T Campus Performing Arts Series, visit leachtheatre.mst.edu or call the Leach Theatre Box Office at 573-341-4219.