Live-action graphic novel experience coming to Leach Theatre
Looking for entertainment that's unlike anything you've ever seen? The Intergalactic Nemesis, a one-of-a kind live theatrical experience that mashes up radio drama with comic books, is coming to Missouri University of Science and Technology. The live-action graphic novel performance, part of this season's Leach Theatre Family Series, will be held at 7 p.m. Friday, Feb. 8, in Leach Theatre of Castleman Hall, 10th and Main streets in Rolla, Mo.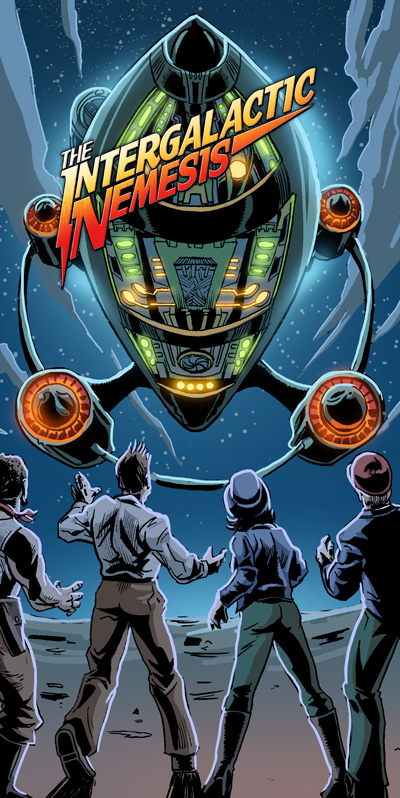 The Intergalactic Nemesis features three actors voicing dozens of characters, a Foley artist creating hundreds of sound effects and a keyboardist providing the score, while more than 1,250 individual, full-color, hand-drawn, high-resolution comic book images are projected on a screen. The show has been featured on Conan O'Brien's late-night talk show and on NPR's "All Things Considered."
Watch the videos.
Inspired by Raiders of the Lost Ark, Star Wars and the pulp serials of the 1930s, the story features Pulitzer Prize-winning reporter Molly Sloan, her intrepid assistant Timmy Mendez and a mysterious librarian named Ben Wilcott. The trio faces the most serious threat Earth has ever known: an impending invasion of sludge monsters from the planet Zygon.
Tickets are $15 for adults and $12 for students and youth. Tickets are available online or from the Leach Theatre Box Office, located in the vestibule inside the main entrance to Leach Theatre, facing 10th Street. Box office hours are 9 a.m. to 4 p.m. Monday through Friday. Call 573-341-4219 for more information.
The Leach Family Series offers discounts for purchases of four or more tickets to this performance.
The show is sponsored in part by Results Radio KTTR 99.7 FM and 1490 AM.
Leach Theatre is a division of Missouri S&T's student affairs department. For more information about the series, call the Leach Theatre Box Office at 573-341-4219.