The year's top news, Discover stories
The appointment of a new chancellor in 2012 and stories of innovative research about strong forces in nanomaterials, potential cancer-causing ingredients in sunscreen and how eye-tracking reveals what's most important on a website were among the most viewed stories on Missouri S&T's news website in 2012.
Meanwhile, a profile of the 2012 freshman class, an English professor's study of Fight Club and the 104th annual St. Pat's Celebration were among the year's most viewed Discover stories from the S&T website.
Based on website visit data, these are the year's top 10 most popular news stories and Discover features in terms of pageviews.
(For fans of S&T athletics, check out this review of the top contests from 2012.)
Top 10 news stories of 2012
10. Missouri S&T among nation's best values, U.S. News says
In September, U.S. News & World Report ranked Missouri S&T seventh in the nation among public universities in its "Great Schools, Great Prices" listing (called "Best Value Colleges" in the online edition). The recognition was included in U.S. News' annual Best Colleges listing.
9. Watch Venus transit the sun at Missouri S&T Observatory June 5
The public lined up outside the observatory the afternoon of June 5 to view a rare astronomical occurrence. On that date, the silhouette of the planet Venus could be seen crossing the disk of the sun — an alignment of the Earth, Venus and the sun that will not occur again until 2117.
8. S&T tops Newsweek ranking of public schools for out-of-state students
Out-of-state students attending Missouri S&T are receiving an education at the most affordable public university in the nation, according to Newsweek magazine's listing of the nation's 25 "Most Affordable Schools."
7. Nobel Prize-winning chemist Daniel Shechtman to speak at S&T
Nobel Prize winner Daniel Shechtman, whose discovery of quasicrystals turned the science of crystallography upside-down, delivered the 23rd A. Frank Golick Lecture in Materials Science and Engineering at Missouri S&T on Feb. 13, 2012.
6. Antioxidant may prevent, even cure, cataracts and other degenerative eye disorders
Research by Dr. Nuran Ercal, the Richard K. Vitek/Foundation for Chemical Research Endowed Chair in Biochemistry at Missouri S&T, could lead to a new treatment for cataracts and other eye conditions.
5. Internet usage patterns may signify depression
In a study analyzing Internet usage among college students, Dr. Sriram Chellappan, assistant professor of computer science, and his colleagues have found that students who show signs of depression tend to use the Internet differently than those who show no symptoms of depression.
4. Eye-tracking studies: first impressions form quickly on the web
When viewing a website, it takes users less than two-tenths of a second to form a first impression, according to eye-tracking research by Dr. Hong Sheng, assistant professor of business and information technology. But it takes a little longer – about 2.6 seconds – for a user's eyes to land on that area of a website that most influences their first impression.
3. Sunscreen ingredient may pose skin cancer risk, researchers find
As vacationers prepared to spend time outdoors last summer, many of them will pack plenty of sunscreen in hopes it will protect their bodies from overexposure, and possibly from skin cancer. But cell toxicity studies by Dr. Yinfa Ma, Curators' Teaching Professor of chemistry, suggests that sunscreen may not be so safe after all.
2. Cheryl B. Schrader named S&T chancellor
Missouri S&T's newest chancellor was formally introduced to a standing-room-only crowd in the Havener Center on Jan. 19. She began her duties on April 2. "Cheryl has consistently been viewed as one of America's best engineering teachers, and she's also excelled in research and public service at the university, state, national and professional level," said then-incoming University of Missouri System President Tim Wolfe in announcing Schrader's appointment. In her comments, Schrader said, "I choose to lead at institutions that are on the move. Missouri S&T's legacy and potential is truly remarkable. I see an innovative, results-driven academic and administrative leadership team — and very bright, capable students."
1. Researchers demonstrate 'giant' forces in super-strong nanomaterials
In a study that could lead to advances in the emerging fields of optical computing and nanomaterials, Dr. Jie Gao and Dr. Xiaodong Yang, both assistant professors of mechanical engineering, report that a new class of nanoscale slot waveguides pack 100 to 1,000 times more transverse optical force than conventional silicon slot waveguides.
Top 10 Discover stories of 2012
10. Students build hybrid go-kart
Just as General Motors began rolling out its Chevrolet Volt to the world, four electrical engineering students unveiled their hybrid go-kart. Watch the video below.
ARVE Error: need id and provider

9. First line of defense
The 2012 football Miners' defensive line didn't have a catchy nickname, like the "Steel Curtain" or the "Fearsome Foursome." But they were a key to the team's successful 10-1 season.
8. LaWanda Jones: Meeting the challenge
As a student in the late 1980s and early 1990s, LaWanda Jones handled a rigorous engineering curriculum. As an engineer who progressed into the marketing field, she prevailed over a different set of challenges. And today, as the first female to chair the Chancellor's Advisory Committee on African American Recruitment and Retention (CACAARR) at S&T, she readily accepts a new challenge: to help S&T recruit a more diverse student body.
7. Schrader takes the helm
In her first interview as Missouri S&T chancellor, Dr. Cheryl B. Schrader discussed her decision to accept the chancellor's position, her priorities and the famous blue turf on the football field at her previous institution, Boise State University.
6. Catie Mohrmann: Prepared for the working world
May 2012 graduate Catie Mohrmann shows that engineers can be multidisciplinary.
5. Haunted Mine: A Halloween tradition
For 15 years now, Missouri S&T's Experimental Mine becomes an old haunt for a worthy cause, just in time for Halloween. Watch the video below.
ARVE Error: need id and provider

4. Rockets, robots, radiators — and more
Fun facts about the student design teams affiliated with the Student Design and Experiential Learning Center.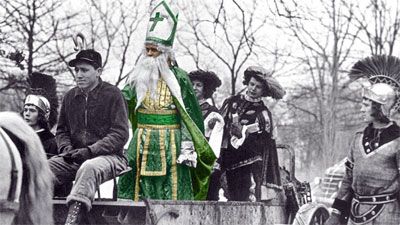 3. Another Best Ever
A colorful glimpse of the 104th annual St. Pat's Celebration in words, photos and video — and through the years.
2. S&T researcher takes on Fight Club
The first rule of Fight Club, according to Dr. Olivia Burgess, is that we are driven by our own personal utopian ideas, regardless if they end up creating dystopia. Burgess, an assistant teaching professor of English and technical communication, wrote her Ph.D. dissertation on utopianism and has been studying the implications of the novel Fight Club. Her article, "Revolutionary Bodies in Chuck Palahniuk's Fight Club," was published earlier this year in the journal Utopian Studies.
1. Pop Quiz! Meet the freshman class
The 142nd freshman class — plus more than 380 transfer students — have descended upon the Missouri S&T campus. Although the majority already call Missouri home, they also represent more than 30 states and six foreign countries. Despite their far-flung hometowns and varied backgrounds, one thing is certain: This new student class is talented and smart.