NASA astronaut to speak at S&T's commencement ceremonies
NASA astronaut Sandra Magnus will be the commencement speaker during two graduation ceremonies at Missouri University of Science and Technology this spring.

The first ceremony, for all graduate candidates and non-engineering candidates, will be held at 6 p.m. on Friday, May 4. The second ceremony, for all undergraduate engineering candidates, will be held at 11 a.m. on Saturday, May 5. Magnus will be the featured speaker at both events.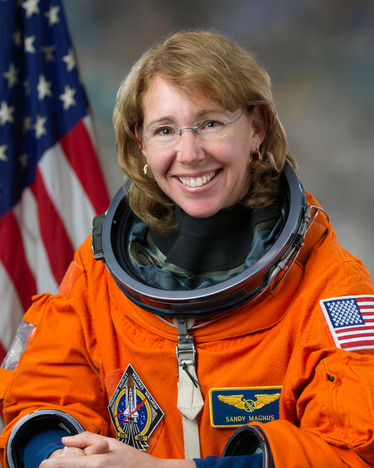 Magnus earned a bachelor of science degree in physics at Missouri S&T in 1986 and a master of science degree in electrical engineering at Missouri S&T in 1990. With NASA, she made three space shuttle voyages. She was aboard Atlantis for the last flight of the program in July of 2011, one of the final four astronauts to orbit the Earth in a space shuttle.
A native of Belleville, Ill., Magnus made two trips to the International Space Station. In 2008-2009, she spent more than four months on the ISS. During that time, she traveled 50,304,000 miles and blogged about the experience for the site spacebook.mst.edu. She also spoke with President Obama while on the ISS.
After working for McDonnell Douglas as a stealth engineer and pursuing other opportunities, Magnus was selected by NASA in 1996. Her first mission was in 2002, also aboard Atlantis, when she operated the shuttle's robotic arm. She has conducted numerous scientific experiments for NASA while in orbit.
A former soccer player at Missouri S&T, Magnus is a member of the Miner Athletic Hall of Fame. In addition to earning degrees at S&T, she holds a doctorate from Georgia Tech.
Last year, following the last space shuttle mission, Magnus returned to Rolla to talk about her career and the future of the space program. She has made frequent visits to campus since she joined NASA. She is one of three S&T graduates to become an astronaut.
*NASA photo.