S&T professor to develop Lakota book into stage production
Jeanne Stanley, assistant professor of theater in the arts, languages and philosophy department at Missouri University of Science and Technology, has been given permission by Native American author Joseph Marshall III to adapt his book, The Lakota Way, into a stage production. Donations are needed to help fund the project, scheduled to be performed in November.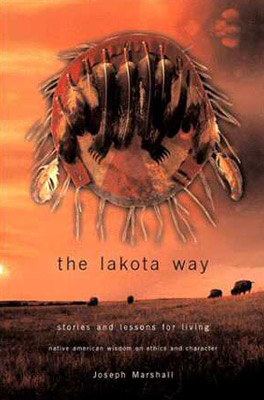 "The stories in the book are so beautiful," says Stanley. "They illustrate 12 core qualities crucial to the Lakota tribe's way of living – I'll narrow the production to eight of them, including love, respect, honor, fortitude and perseverance." She has titled the project "Life Lessons: A Gift from the Lakota to the World."
Stanley says she envisions people representing many of the more than 70 different nationalities on the Missouri S&T campus to be part of the show. "I would like to see them tell the Lakota stories wearing their own native costumes, with the stories acted out by others on the stage. My goal is to illustrate through the imagination and Joseph's beautiful words the commonality we all share," she says.
Others Stanley has recruited to develop the project include David Cress and Kevin Shaw. Cress, a lecturer in the arts, languages and philosophy department and S&T Jazz Band conductor, will write original music for the play. Shaw, manager of technical support for Leach Theatre, will set the mood. "Kevin plans magnificent lighting effects," says Stanley. "We promise everyone will be moved."
Author of nine books, Marshall was born and raised on the Rosebud Sioux Indian Reservation, where he co-founded Sinte Gleska University. He is an advocate, author, activist, storyteller and educator committed to improving education for the Native American community and to increasing awareness of Native American culture throughout the world. His acting career includes roles in "Lonesome Dove," "Into the West" and "How the West Was Lost." He lectured at the S&T campus in November 2010.
Marshall plans to attend the world-premiere production in November. He will also provide a workshop prior to the performance and a discussion session following it.
To help support the project, mail checks with a notation that it is for "Life Lessons" to the Center Stage Club, Missouri S&T, 127 Castleman Hall, 400 W. 10th St., Rolla, Mo., 65409-0670.