Celebrate a genuine Irish Christmas Dec. 17
The Three Irish Tenors are bringing their vocal harmonies to Missouri University of Science and Technology with "Christmas from Dublin." The group will perform at 7:30 p.m. Friday, Dec. 17, in Leach Theatre of Castleman Hall, 10th and Main streets in Rolla. The performance is part of Missouri S&T's 2010-11 Campus Performing Arts Series.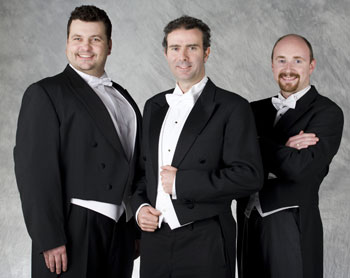 Tickets are $38 for adults and $28 for students and youth. The first 75 tickets for Missouri S&T students are free.
Tickets are available online, or from the Leach Theatre Box Office. Box office hours are 9 a.m. to 4 p.m. Monday through Friday. Call 573-341-4219 for more information.
The popular trio's performance will feature holiday favorites such as "The Little Drummer Boy," "Silent Night," "Saviour's Day" and "O Holy Night." Now on their seventh American tour, the group brings warmth and infectious Irish charm to songs and arias that appeal to all generations and cross both cultural and national boundaries.
Leach Theatre will offer discounted tickets through its "Back Row Club" one hour prior to the event, should tickets remain for the show. The seats in the last row of the theater will be sold for $10 each prior to the performance.
"Christmas in Dublin" is sponsored in part by Vince and Sally Carpenter and public radio station KMST. Funding for the Missouri S&T Campus Performing Arts Series is provided by the Missouri S&T Endowment for the Performing Arts.
For more information about the Missouri S&T Campus Performing Arts Series, call the Leach Theatre Box Office at 573-341-4219 or go online.