New book by S&T authors applies Lean Six Sigma to supply chain
Using an interactive case study from a real-world setting, Missouri University of Science and Technology authors demonstrate how Lean Six Sigma business strategy concepts can be applied to supply chain management.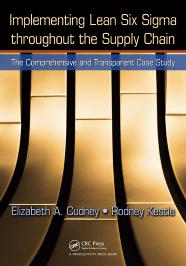 The book, Implementing Lean Six Sigma Throughout the Supply Chain, was published by CRC Press in October. The book's authors are Dr. Elizabeth A. Cudney, assistant professor of engineering management at Missouri S&T who focuses on quality and lean manufacturing, and Rodney Kestle, a Ph.D. candidate in engineering management at the university. This is Cudney's second book.
The book comes with an interactive CD that contains all of the graphs, charts, tables and data analyses provided in the text, as well as PowerPoint training slides and easily accessible data sets that correspond to the figures in the book. It also includes a full glossary and reference guide to commonly used Lean and Six Sigma terms.
Cudney, who also serves as associate director of Missouri S&T's Design Engineering Center, joined the Missouri S&T faculty in 2007. She has published more than 60 scholarly articles on those subjects. In 2009, her book Using Hoshin Kanri to Improve the Value Stream was published by Productivity Press. The book is a how-to guide to help organizations streamline their processes.
Cudney was elected an associate member of the International Academy for Quality last spring. She is also a past winner of the American Society for Quality's Armand V. Feigenbaum Medal, which is presented to young professionals who have displayed outstanding leadership in the quality field. She received that medal in 2007. She is also a past recipient of the 2006 SME Outstanding Young Manufacturing Engineer Award.
This international award is given annually to engineers who have made exceptional contributions and accomplishments in the manufacturing industry.
Cudney is an ASQ certified quality engineer, certified manager of quality/organizational excellence, certified quality improvement associate and a certified Six Sigma Black Belt.
Cudney earned a bachelor of science degree in industrial engineering from North Carolina State University and master of science degrees in mechanical engineering and business administration from the University of Hartford. She earned her Ph.D. in engineering management from Missouri S&T in 2006.
Prior to returning to school for her doctorate, Cudney worked for more than five years at Jacobs Vehicle Systems in Bloomfield, Conn., in various roles including Six Sigma Black Belt, quality and process engineer, quality auditor, senior manufacturing engineer and manufacturing manager.
Kestle earned a bachelor of science degree in industrial technology from Purdue University and a master of science degree in manufacturing engineering from Missouri S&T in 2008.