S&T's School Outreach Program begins with 'Einstein Alive!'
The first offering in the 2010-11 School Outreach Program will be "Einstein Alive!," which blends science and history in an entertaining and spontaneous show. Three performances will be offered, at 9:30 a.m., 11 a.m. and 1 p.m. Thursday, Sept. 23, at Leach Theatre of Castleman Hall, 10th and Main streets in Rolla, Mo.

Missouri University of Science and Technology's School Outreach Program gives area children an opportunity to learn outside of their classrooms. Admission is $4. The program is sponsored by the S&T department of student affairs.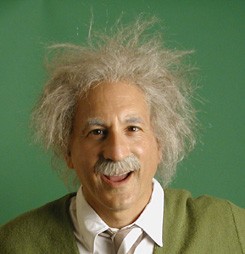 In "Einstein Alive!," students in grades 2-6 learn Einstein's theories from the personal perspective of Albert Einstein, as portrayed by Marc Speigel. The show includes demonstrations of relative motion, sing-alongs illustrating fundamental concepts, and humorous interactions capped by a lively question and answer session.
Additional offerings in the 2010-2011 School Outreach Program are:
— Alpin Hong, 1 p.m. Friday, Oct. 8. Pianist Hong combines his stunning musical technique, passion and humor to connect with his audience. His extensive classical training, matched with his background in skateboarding, snowboarding, martial arts and videogames, resonates with students in grades 5-12.
— "Thaddeus Rex and Rock," 9:30 a.m., 11 a.m. and 1 p.m. Tuesday, Nov. 9. Thaddeus Rex shares his passion for reading in this interactive show geared toward students in grades K-4. Using his singing and songwriting talents and accompanied by a 7-foot dinosaur named Rock, Rex encourages kids to "Read like a Rock Star!"
— River North Chicago Dance Company in "Street Beat: Dance Through the Decades," 10 a.m. Thursday, March 17, 2011. Full costumed performances showcase dance from the Roaring '20s through the hip hop of the '90s. The performance includes educational narratives on the historical and social conditions of each decade. This program is best suited for students in grades 5-12.
More information on the Missouri S&T School Outreach Program is available online, or by contacting Ruth Husted, outreach coordinator, at 573-341-6365 or hustedr@mst.edu.