'Thumbelina' will be shown at Leach Theatre on Feb. 13
The story of the tiny girl no bigger than your thumb will be told in a showing of Thumbelina. The film will be shown on the big screen at Missouri University of Science and Technology as part of the Leach Theatre Family Film Series.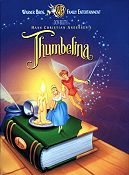 Screening will begin at 11 a.m. Saturday, Feb. 13, in Leach Theatre of Missouri S&T's Castleman Hall, 10th and Main streets in Rolla, Mo. Admission is $2 per person. Tickets will be available at the Leach Theatre Box Office.
Don Bluth based his screenplay on Hans Christian Andersen's Thumbelina, about a lonely little girl who yearns for a friend her size. Her dreams come true when she meets a fairy prince, but shortly after they meet, she is kidnapped by a toad. Follow Thumbelina in her struggle to get back home, learning life lessons from a host of interesting characters along the way.
Post-film activities will include face painting and arts and crafts. Lunch and snacks, including pizza and soda, will be sold following the film. For more information, call 573-341-4219.
The final film in this year's series will be The Rescuers, from Walt Disney Productions on Saturday, March 6.