Encore! Saint Louis Symphony Orchestra to revisit Rolla March 7
The internationally renowned Saint Louis Symphony Orchestra will perform at 7:30 p.m. Sunday, March 7, in Leach Theatre of Castleman Hall, 10th and Main streets in Rolla. The concert is part of Missouri University of Science and Technology's 2009-10 Campus Performing Arts Series.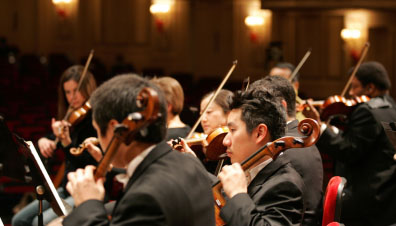 Tickets are $40 for adults and $35 for students and youth. The first 75 tickets for Missouri S&T students are free.
Tickets are available online, from the Leach Theatre Box Office, or by phone at 573-341-4219. Box office hours are 9 a.m. to 4 p.m. Monday through Friday.

Founded in 1880, the Saint Louis Symphony Orchestra is the second-oldest orchestra in the country. David Robertson, principal conductor since 2005, was called "the most accomplished American conductor of this generation," by New York Times music critic Anthony Tommasini.
Robertson will direct the orchestra as it performs excerpts from its performances at Carnegie Hall. Pieces to be performed include Igor Stravinsky's Danses Concertantes, and Ludwig Amadeus Mozart's Symphony No. 36, Linz.
Leach Theatre will offer discounted tickets through its "Back Row Club" one hour prior to the event, should tickets remain for the show. The seats in the last row of the theater will be sold for $10 each the night of the performance.
This performance is sponsored in part by public radio station KMST. Additional funding for the Missouri S&T Campus Performing Arts Series is provided by the Missouri S&T Endowment for the Performing Arts, the Missouri Arts Council and the Maxwell C. Weiner Endowment for the Performing Arts.
For more information about the Missouri S&T Campus Performing Arts Series, call the Leach Theatre Box Office at 573-341-4219 or go online.