Chinese Spring Festival to be celebrated on Feb. 14
The Chinese Students and Scholars Association (CSSA) at Missouri University of Science and Technology invites the campus and community to attend its annual Spring Festival, also called the Chinese New Year or Lunar New Year, on Sunday, Feb. 14.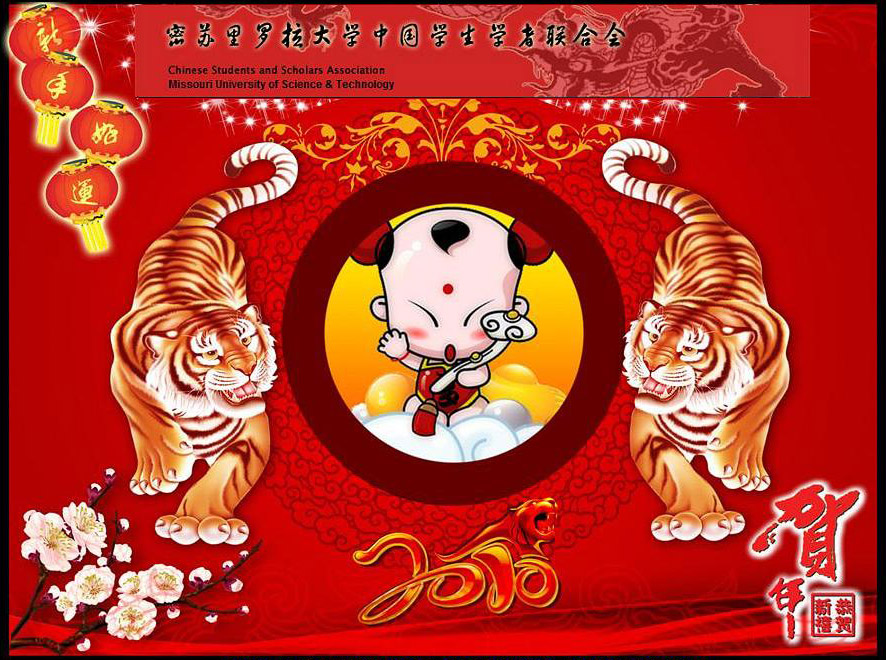 The Year of the Tiger will be ushered in with a cultural show and dinner featuring authentic Chinese cuisine. The cultural show begins at 5 p.m. in Leach Theatre of Castleman Hall. Show tickets are free to Missouri S&T students, faculty and staff, and $4 each for the public. Seating is limited. The dinner begins at 7 p.m. at the Havener Center. Dinner tickets are $6 each.
Tickets typically go fast for the Chinese Spring Festival events, and will be available from noon to 1:30 p.m. Wednesday, Feb. 3, and Thursday, Feb. 4, outside the Curtis Wilson Laws Library and the Havener Center. If tickets remain after Feb. 4, they will also be available from noon to 1:30 p.m. Wednesday, Feb. 10, outside the Havener Center and from 4-5 p.m. Sunday, Feb. 14, at the Leach Theatre Box Office.