Former S&T chancellor to be honored at garden dedication
A garden created in honor of the late Dr. Gary Thomas, chancellor of Missouri S&T from September 2000 through August 2005, will be formally dedicated at 4 p.m. Friday, Oct. 23, in the Brewer Family Atrium in Toomey Hall. The event is open to the public and is part of Missouri S&T's 2009 Homecoming Weekend activities.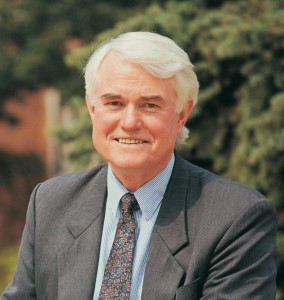 As the university's eighth chancellor, Thomas led the campus to significant growth in student enrollment, new facilities, funding for research programs and private support. A passionate gardener, he wanted to ensure that the beauty of the Ozarks was reflected in the campus landscaping.
"Once the first crocus in the spring would bloom, Gary and I would stroll through the garden every evening when he returned from work," says Thomas's widow, Dr. Barbara Tedesco. "He would point out all the flowers that were starting to come up. It was a lovely evening ritual."
The dedication of the Gary Thomas Memorial Garden will include a welcome by Chancellor John F. Carney III and remarks by Zeb Nash, a chemical engineering graduate of S&T and a former Miner Alumni Association president, and Charlotte Wiggins, former councilwoman for the city of Rolla. The Missouri S&T Chamber Choir and University Choir will perform during the dedication, and the S&T String Quartet will provide music during a reception immediately following the event.
The garden was commissioned by the Missouri S&T Board of Trustees and made possible by gifts from Kate Thomas, daughter of Dr. Thomas, the S&T mechanical and aerospace engineering department and the Missouri S&T Board of Trustees.
"Gary was a change agent," says Jeff Steinhart, president of the Board of Trustees and an engineering management graduate of S&T. "He was a great asset during a tough time as far as strategically advancing the school into the future."
A native of California, Thomas earned his bachelor's degree in electrical engineering at the University of California at Berkeley in 1960. He earned a master's degree in physics at UC-Berkeley in 1962 and a Ph.D. in electrical engineering and computer science at the same institution in 1967. He died Jan. 1, 2008, at age 70.