For a musical change of pace this summer, join the Rolla Town Band
If you play an instrument or would like to be a sponsor, the Rolla Town Band needs you. Rehearsals begin next week and musicians age 14 and older are welcome to join in the fun. All ability levels are welcome, including those who haven't played in 20 years. "We'll even see if we can find you an instrument to use," says Dr. Robert J. Cesario, director of bands and orchestras at Missouri S&T, who will be conducting the band this summer.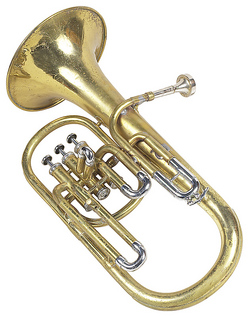 Rehearsals will begin on Tuesday, June 9. They will be held from 7-8:30 p.m. Tuesdays and Thursdays in June, and every Tuesday in July, in Room 137 Castleman Hall.
The Rolla Town Band plans to perform a broad range of music during several concerts in July. The concerts will be held on the Castleman Hall Green and at the downtown band shell in Rolla. Dates and times will be announced later this month.
Current sponsors for the Rolla Town Band include the Missouri S&T arts, languages and philosophy department; the World's Finest Rolla German Band; and the City of Rolla department of parks and recreation. Additional sponsors are needed.
Organizations and individuals interested in helping sponsor the Rolla Town Band this summer, as well as those interested in performing in the ensemble, can contact Cesario at 341-4185, or via email at cesarior@mst.edu.