The tale of 'Dr. Dolittle' to be signed and spoken at Leach Theatre
Missouri S&T will present "Dr. Dolittle," performed in spoken English and American Sign Language by the Sign Stage on Tour national touring company at 7 p.m. Friday, April 17, in Leach Theatre of Castleman Hall. This is the final performance in this season's Leach Theatre Family Series.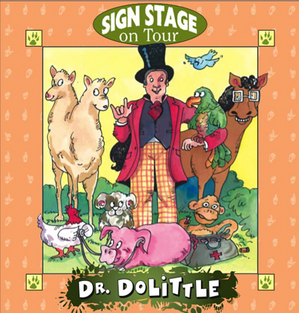 Tickets are $12 for adults and $8 for students. Missouri S&T students can charge their ticket to their student account.
Tickets are available at the Leach Theatre Box Office and may be purchased with a credit card by phone at 341-4219. All sales are final; however, tickets may be returned 24 hours prior to a performance for a tax deductible contribution to the theater.
The Leach Family Series offers a $1 discount each for purchases of four or more tickets to any of the four performances.
Already proficient in sign language, Dr. Dolittle decides to stop treating people after his parrot, Polynesia, teaches him animal languages. His fame in the animal kingdom quickly spreads throughout the world. Using all of his language skills, he sets off to cure a monkey epidemic in Africa, finding all sorts of adventures on the way. The play is based on the original story by Hugh Lofting.
Sign Stage on Tour specializes in sign language theatre, where deaf and hearing actors perform together on stage. Whenever a character speaks, the character speaking uses sign language, but the audience also hears the voice. The voice comes from a different actor speaking through a microphone, sometimes on-stage and sometimes off-stage. Visually, the stage is filled with the movement of hands and bodies yet every word is spoken to make sure all audience members, both deaf and hearing, don't miss a thing.
The Leach Theatre Family Series is presented by the Missouri S&T student affairs division. The performance is sponsored by the Missouri Arts Council.
For more information, call the Leach Theatre Box Office at 341-4219.