Join S&T's Middle Eastern students for Saudi Night
The area community is invited to learn about Middle Eastern culture and customs during Saudi Night at Missouri S&T on Saturday, April 11. The event will be held from 6-9 p.m. in St. Pat's Ballroom in the Havener Center.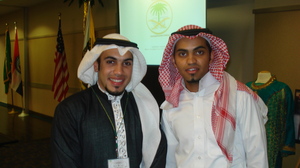 Tickets are $5 each and are available from 9 a.m.-4 p.m. Monday through Friday, at the Leach Theatre Box Office in Castleman Hall. Tickets may be purchased with a credit card by phone at 573-341-4219. Missouri S&T students can charge their ticket to their student account.
This is the third year the Missouri S&T Saudi Student Association (SSA) will host Saudi Night. This year's theme is "Sharing the King's Vision for A Better World." The semi-formal event will include exhibitions, traditional appetizers and dinner, speakers, music, dance and a film.
"Last year people really liked the exhibitions, the movie and the dances," says SSA club president, Hassan Alalwiyat, a junior in electrical engineering. "This is a great way to learn about the Arabic world, especially about our Saudi culture."
Exhibitions will be on display throughout the event, around the perimeter of the ballroom. "The feel is immersive," says Roberta "Birdie" Morgan, assistant director of international affairs at S&T. "You walk into the room and you are surrounded by the Arabic culture. It's a great event and the students enjoy sharing their world."
For more information about Saudi Night, contact Alalwiyat at 573-202-0436 or haafm5@mst.edu.