Doty to retire after 42 years
Gene Doty, chair of English and technical communication at Missouri University of Science and Technology, is retiring from the university following the current semester.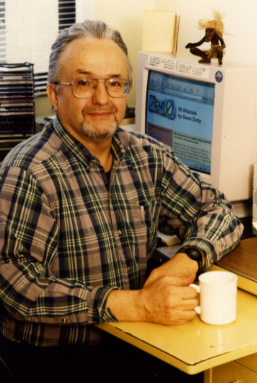 Friends and colleagues are invited to help Doty celebrate his 42 years on campus during a retirement reception from 2-4 p.m. Tuesday, April 28, in the Carver-Turner Room of the Havener Center.
Doty came to Rolla in 1967 from Emporia State University in Kansas. Among the many courses he has taught are creative writing, world masterpieces and fantasy literature. He has been chair of the English and technical communication department at Missouri S&T for the past three years. He served as the advisor for the department's literary magazine, Southwinds, for almost 20 years.
Doty's essays and poems have appeared in numerous magazines, journals and anthologies. He has published eight books of poetry, including Christographia (1973), Fishing at Easter (1981) and Zero: Thirty Ghazals (1998). He has been a member of the Haiku Society of America since 1986.
Doty's other research interests include science fiction, fantasy, and the intersection of Christianity and literature. He served as poetry editor for the journal Christianity and Literature for eight years.
In 1999, Doty's interest in the Middle Eastern poetic form known as the ghazal led him to edit and publish The Ghazal Page, an online webzine. He publishes ghazals under the name of Gino Peregrini.