Swing with the Glenn Miller Orchestra on March 16
The most popular big band in the world, the Glenn Miller Orchestra, will perform at 7:30 p.m. Monday, March 16, on the campus of Missouri S&T. The performance is part of the Campus Performing Arts Series and will be held in Leach Theatre.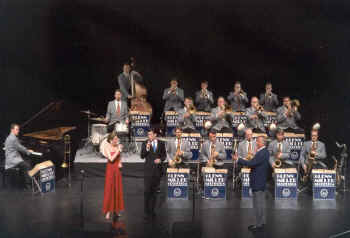 The legendary Glenn Miller was one of the most successful dance bandleaders in the Swing era of the 1930s and 1940s. The Miller Estate authorized the formation of the 19-member orchestra in 1956, and it has been touring ever since. With its unique jazz sound, the Glenn Miller Orchestra is considered to be one of the greatest bands of all time.
Tickets are $30 for adults and $25 for students. The first 100 tickets for Missouri S&T students are free to this event. For more information about the 2008-2009 Missouri S&T Campus Performing Arts Series, call the Leach Theatre Box Office at 573-341-4219.
In the event that tickets remain for this performance, Leach Theatre will offer discounted tickets through its "Back Row Club," one hour prior to the event. The seats in the last row of the theater will be sold one hour before the event for $10 each.
The Glenn Miller Orchestra is sponsored by Vince and Sally Carpenter. Additional funding for the Missouri S&T Campus Performing Arts Series is provided by the Missouri S&T Endowment for the Performing Arts, the Missouri Arts Council, the Mid-America Arts Alliance, the National Endowment for the Arts and the Maxwell C. Weiner Endowment for the Performing Arts.