S&T grad Sandra Magnus returns from 4-month space trip
After more than four months living aboard the International Space Station, Missouri S&T graduate and NASA astronaut Sandra Magnus has returned to earth.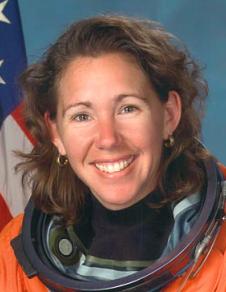 Magnus and the rest of the crew of the Space Shuttle Discovery landed safely at NASA's Kennedy Space Center at 2:15 p.m. CST today.
It's the first time Magnus has been back on earth since Nov. 14, 2008, the date that NASA's Space Shuttle Endeavour carried her to the ISS for a 4 1/2-month stay. During her time in space, Magnus posted frequent updates on a Missouri S&T blog, spacebook, which became a popular resource for schools throughout Missouri and elsewhere.
Magnus is a native of Belleville, Ill. She received a bachelor's degree in physics from Missouri S&T in 1986 and a master's degree in electrical engineering from Missouri S&T in 1990. She earned a doctorate from Georgia Institute of Technology in 1996.
Magnus joined NASA in 1996. She spent 11 days in space in 2002. During that trip to the International Space Station, she operated Space Shuttle Atlantis' robotic arm.
Magnus is one of three Missouri S&T graduates to have launched careers as NASA astronauts. The others are Tom Akers, who holds bachelor's and master's degrees in mathematics from S&T, and Janet (Sellers) Kavandi, who earned a master's degree in chemistry from S&T.