'Idol' winner David Cook to perform in Rolla
David Cook, the 2008 winner of television's "American Idol" singing competition, is scheduled to perform a concert at Missouri S&T on Monday, April 27.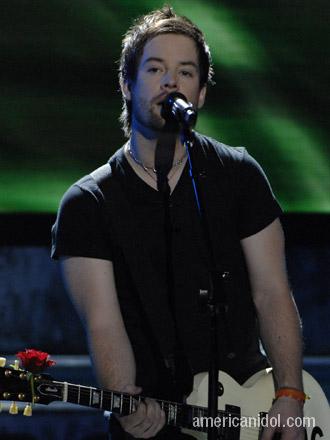 Cook's performance will begin at 7:30 p.m. in Leach Theatre of Castleman Hall. Tickets are $38 for adults and $22 for S&T students and youths age 18 and under.
Beginning at 9 a.m. Tuesday, March 31, 100 tickets will be made available to Missouri S&T students presenting a valid S&T student I.D. at the Leach Theatre Box Office. Students may purchase one ticket per S&T student I.D. and each student may present up to two S&T student I.D.s.
The public may purchase tickets beginning at 9 a.m. Wednesday, April 1, at the box office window, located in the front lobby of Castleman Hall, in Rolla. No phone orders will be taken on April 1 and tickets are limited to four per person. Box office hours are from 9 a.m. to 4 p.m. Monday through Friday.
Beginning Thursday, April 2, phone orders will also be accepted for any remaining tickets by calling 341-4219. Leach Theatre accepts MasterCard, Visa and Discover credit cards.
Cook was the surprise winner last May in the seventh season of "American Idol," beating runner-up David Archuleta by 12 million votes. Archuleta was favored to win the contest, but the innovative and versatile rocker Cook prevailed.
He complemented his grunge-inspired vocals by accompanying himself on both electric and acoustic guitar throughout the contest. Cook won praise for his interpretations of Lionel Richie's "Hello" and Michael Jackson's "Billie Jean."
Cook started singing in second grade and playing guitar at age 12. He grew up in Blue Springs, Mo., and graduated in 2006 from the University of Central Missouri as a graphic design major. From 1999 to 2006, he was the lead singer and guitarist for Axium. After graduation, he moved to Tulsa, Okla., where he bartended and played guitar and bass and sang backup for the Midwest Kings.
Since winning "Idol," Cook has pursued his dream of becoming a professional musician, releasing his debut album "David Cook" in November. The album sold 280,000 copies in the first week of its release. His newest single "Light On" was released on video Nov. 23 on VH1, where it became the No. 1 video for the week.