School Outreach Program looks at the insect world
Missouri S&T will present the next event in the 2008-09 School Outreach Program, "Butterfly: The Story of a Life Cycle." There will be four performances, at 9:30 a.m. and 1 p.m. on both Tuesday, Feb. 10, and Wednesday, Feb. 11. The performances will be held in Leach Theatre of Castleman Hall. All shows except for Wednesday's 1 p.m. performance are sold out. Tickets are $3.50 each.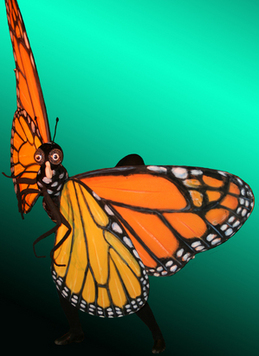 "Butterfly: The Story of a Life Cycle," takes a microscopic look at the insect world, viewing the life of a butterfly from birth to death. Each part of the life cycle will be depicted on the stage with giant puppets through songs and dances. Children will see the story unfold from egg to caterpillar, to the amazing metamorphosis in the chrysalis, to the incredible 1,500 mile journey to Mexico.
The performance is presented by Hudson Vagabond Puppets, a not-for profit company. HVP creates programs to fit into the school curriculum as well as to entertain children and their families. The company also presented "Mammoth Follies" in October. "Butterfly" is geared for kindergarten through second grades.
For more information on the Missouri S&T School Outreach Program, contact Wendi King at Leach Theatre, 341-6365.
More information about the show and a downloadable study guide can be found on Leach Theatre's website: leachtheatre.mst.edu/school_outreach/2008-2009.html.