S&T Miners in Space to weld in micro-gravity
A team of students from Missouri University of Science and Technology is flying high this week, ready to defy gravity while welding.

While onboard NASA's recently acquired Boeing 727, S&T students will weld aluminum and study its behavior with a goal of improving the speed of space construction. Meanwhile, the aircraft will create a temporary environment of near weightlessness by flying in parabolic patterns. The plane's choreographed zero-gravity flight maneuvers will create several periods of weightlessness, each lasting less than a minute.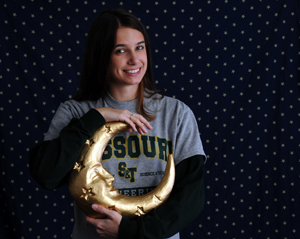 "The team hopes to collect data that will lead to a better understanding of how to weld in space," says team leader Michelle Rader, a senior in aerospace engineering from Marshfield, Mo. "We have updated our electronics to a computer-based system that will control the robotic system that moves the weld gun across the test strip. Students on the aircraft will start and stop the welding process using a touch-screen monitor."
The eight-member team is one of 14 given a special invitation by NASA to test the Boeing 727's ability to support a variety of microgravity projects at Johnson Space Center. This will be the S&T weld team's fifth trip to Houston, having previously conducted experiments on NASA's famous "Weightless Wonder" aircraft as part of the agency's Reduced Gravity Student Flight Opportunities Program.
Team members plan to leave Jan. 7. Miners in Space Weld Team members include:
Michelle Rader of Marshfield, Mo., a senior in aerospace engineering, team leader and ground crew
Caleb Baumgart of Blue Springs, Mo., a senior in aerospace engineering, flyer
Ben Gaither of Benton, Ark., a senior in aerospace engineering, flyer
Joe Siebert of Fenton, Mo., a graduate student in aerospace engineering, flyer
George Green, electronics technician at Missouri S&T, team technical advisor and flyer
Shawn Miller of Rolla, Mo., a graduate student in aerospace engineering, alternate flyer
Ryan Pahl of Eureka, Mo., a graduate student in aerospace engineering, ground crew
Tonya Sanders of Independence, Mo., a graduate student in aerospace engineering, ground crew