Searching for pervasive computing's middleware middleman
In the business world, computers and the Internet have reduced the need for intermediaries – the so-called "middlemen" that once was so important for making travel plans, purchasing insurance or buying stock. In one field of computer research, however, the quest is on to create just such an intermediary to connect a flood of computerized devices with vast networks of data.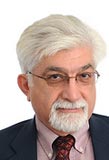 Dr. Ali Hurson (pictured, left) is among those researchers searching for a "middleware" solution that will make current and future gadgets more useful by connecting them with larger networks.
"Pervasive computing means making computing more involved in the daily life of humans, but in a graceful rather than disruptive fashion," says Hurson, professor and chair of computer science at Missouri University of Science and Technology.
Middleware is the software glue that could connect a wide array of personal devices – from mobile devices to the on-board navigation systems of automobiles – to various networks. Middleware operating with a vehicle's navigation system could interact with other data systems to let drivers know of nearby filling stations when their cars are low on gas, or communicate with a traffic-control network to suggest alternative routes around traffic jams.
One of Hurson's latest projects involves designing a more secure system of computers and sensors to improve airport security. His idea of a "pervasively secure infrastructure" for airports – a network of mobile and stationary sensors, cameras and other wired and wireless gadgets that can detect everything from chemical residue on clothing to unusual movements of individuals in the concourses – is one example of how pervasive computing could potentially reduce the risk of terrorist attacks.
Funded by the National Science Foundation, Hurson's research on airport security envisions an environment in which various sensors – cameras, chemical-sniffing devices, motion sensors – connect into a middleware application that in turn connects to the databases and information networks of law enforcement agencies, such as the FBI, the National Security Administration and local police. Much like a middleware agent connecting a driver's navigation system with traffic-control networks can inform drivers of road construction ahead, Hurson's airport middleware agent would notify law enforcement of any suspicious behavior in or around an airport.
The middleware would be "running the show" for airport security, helping airport security and police better determine "what is going to help them fulfill their tasks better," Hurson says.
The middleware concept is still mainly theoretical, but Hurson sees a great future ahead for pervasive computing. For the airport problem, developing a middleware that can act as a go-between for myriad computer networks – and do so securely – is the trick.
Many types of sensors are now designed with the flexibility to adapt them to different uses, Hurson says. Existing sensors that were designed for one specific purpose – to tell you when it's time for an oil change, to use the car example – could be reprogrammed to perform another task, such as detecting excess heat in the engine. Computer scientists could even create software agents – a sort of benign computer virus – to spread throughout a network and remotely reprogram nodes in one fell swoop.
"These networks have been created in isolation," Hurson says. "Now we want to establish interoperability to serve future applications."
Hurson is also interested in creating networks of sensors, each designed for a specific application, to handle a sophisticated network such as an airport security system.
Hurson, who joined Missouri S&T as chair of computer science in January 2008, wants to establish a pervasive computing laboratory at S&T to further this research emphasis.